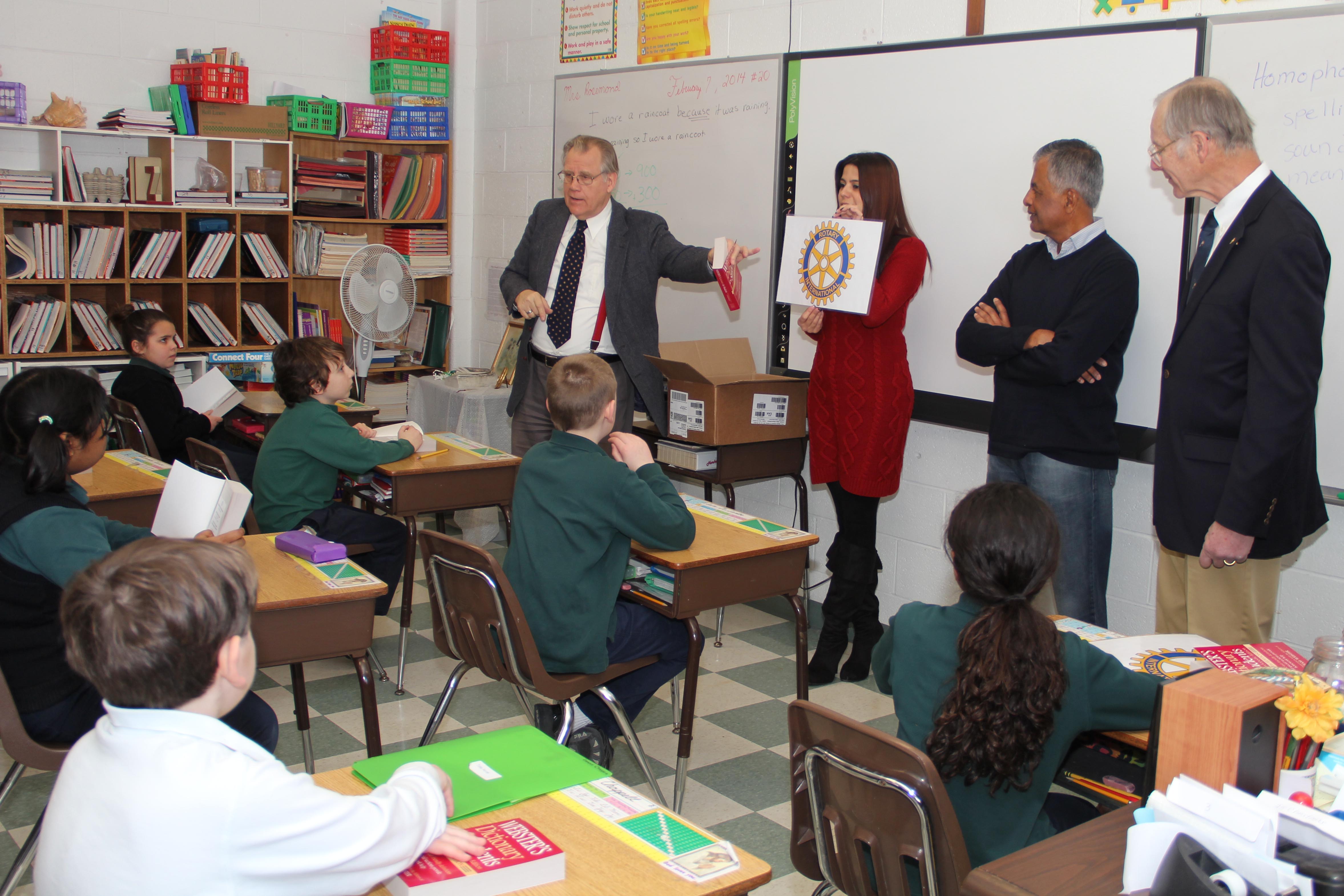 Rotary Club of Manchester Distributes Dictionaries to Connecticut Third-Graders
Students in Manchester, Connecticut now have dictionaries to call their own thanks to a generous donation from their local Rotary Club.

The Manchester Rotary Club has been committed to fostering the education of its local students since the start of its project in 2006. As part of their annual Dictionary Project, members of the Rotary Club visited all of the public and private schools in the Manchester area in order to provide each student with a personal dictionary.

A teacher from the St. Bridget School in Manchester expresses her thanks to Rotary member Rick Lawrence and his fellow Rotarians in the following note; "I would like to extend a personal thank you to you and your colleagues for your visit on Friday. My class was so excited to have received their own personal dictionaries, they could not put them down for the rest of the day. So, I broke the class into teams and we played the dictionary game looking for words, identifying syllables, parts of speech and how many entries a particular word had. They were so excited and did so well that they all tied and won a class prize! I am sure my students will use their dictionaries often in the future. Again, thank you for your help keeping learning exciting for our youth."

In addition to its annual Dictionary Project, the Rotary Club also participates in other service projects that strive to help others lead healthy and happy lives. One of such projects is the Rotary District 7890 water project which aims to help provide communities in Guatemala with fresh drinking water. Manchester Rotary Club member Geoffrey Naab notes, "This is an annual joint project of Rotary District 7890 (Northern Conn. and Western Mass.) and BPD [Behrhorst Partners for Development]. Rick Lawrence chairs the Rotary effort, which involves about twenty Rotary Clubs in District 7890 and other districts." In conjunction with the Rotary District's water project, the Rotary Club of Manchester and its members have also helped fund and distribute Spanish/English dictionaries to the Guatemalan villages that they assist.

The Manchester Rotary Club members' success in not only supporting the education of students in their local community but also in helping to improve the quality of life for those living in disadvantaged Guatemalan villages is truly an inspiring demonstration of the substantial impact that our efforts can have on the lives of others.