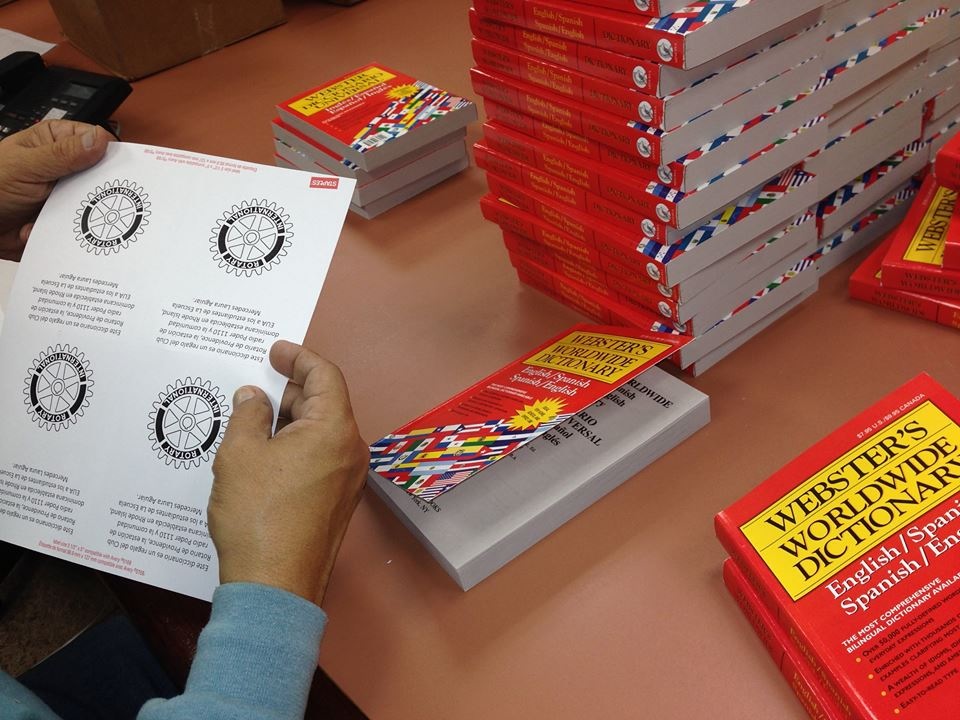 Dictionaries Donated to Students in La Romana, Dominican Republic
The Rhode Island based Video Mundo Broadcasting Company recently collaborated with the Providence Rotary Club and the local business community in order to implement their first ever dictionary project aiming to serve students in La Romana, Dominican Republic.

Providence Rotarian and member of the Video Mundo Broadcasting Company, Tony Mendez, helped organize the donation in conjunction with the Rotary Club's Clean Water and Sanitation Education efforts in the Dominican Republic.

While completing their service projects in La Romana this past February, a team of Rotarians donated 65 Spanish/English dictionaries to the Mercedes Laura Aguiar School library as well as one of its fifth grade classes. Since then, over 800 dictionaries have been donated to students attending the school in La Romana.

Rotary Club president Jenny Miller remarks on the recent dictionary distribution and further thanks Rotarian Tony Mendez for his help in organizing the donation in the following excerpt, as originally posted on the Rotary Club's blog documenting the service trip: "This donation truly meant a great deal to this school! The best part for us was when we went into the 5th grade class and told them about the dictionaries, all the students started clapping and cheering!!!! It was amazing how something as simple as a dictionary truly can change the lives and make so many so happy!! An extra special thank you and huge appreciation to Providence Rotarian Tony Mendez for making the connection between this school and the Providence Rotary Club!!!"


Thanks to the efforts of the Video Mundo Broadcasting Company, the Providence Rotary Club, and the local business community, students in La Romana now have access to an essential learning tool that they will be able to utilize throughout their lives. The organizations' collaborative effort to provide students with dictionaries of their very own is most inspiring and truly demonstrates the organizations' commitment to helping the students lead healthy and happy lives.