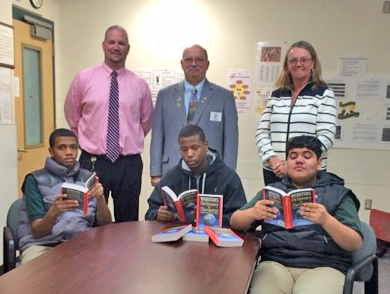 Kinderhook Elks Lodge #2530 Completes Annual Dictionary Project
The Kinderhook Lodge of the Benevolent and Protective Order of Elks has again donated combination dictionaries/thesauruses to students at Berkshire Jr./Sr. High School. This marks the third year in a row the Elks have provided these important learning resources. Two years ago, as the school was launching its "Writing to Inform" strategy, the Kinderhook Lodge placed more than 100 dictionaries into the hands of the students. While students often rely on Internet resources, the availability of printed, high quality reference materials remains a valuable tool for students and teachers alike, and Berkshire Union Free School District appreciates the support of the Kinderhook Lodge of the Benevolent and Protective Order of Elks.

Berkshire Farm Center & Services for Youth is one of New York State's leading nonprofit child welfare agencies, serving more than 8,500 children and their family members across New York State each year with innovative programs and services designed to keep families together, reunite families when needed, help children succeed in school and in their community, and prepare to become productive adults.

With support from caring individuals and forward looking businesses and groups such as the Elks, we empower children, their families, and their communities to become healthier and stronger.

Berkshire has a distinguished history of working with children and families for more than 128 years. Helping children and families become healthier and stronger has been at the heart of Berkshire's mission since its founding in 1886.