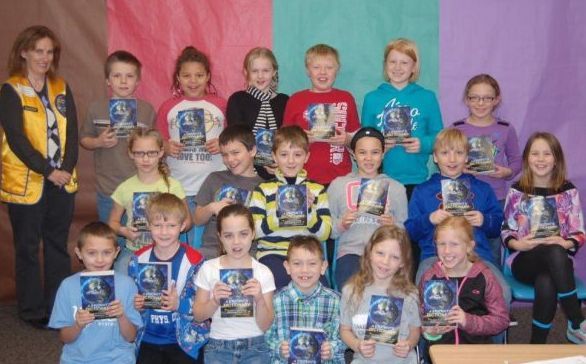 Waseca Lions Donate Dictionaries to Third-Graders
Waseca Lions Club recently distributed dictionaries to all third-graders in Waseca's three elementary schools. Lion Jay Sopkowiak is shown with Mrs. Altmann's Hartley third graders. Lion Diane Beckmann and Lion Becky Dennis also gave out books at the three schools.
With each student owning a book, the teachers will have the opportunity to emphasize pronunciation, vocabulary, spelling, reading, language and writing skills needed for educational success in all aspects of life. The reference book includes information about American presidents, planets, the periodic table and other curriculum items teachers can incorporate in lesson plans. It also includes the language's longest word with 1,909 letters. The skills gained in understanding the printed dictionary will help students master electronic devices available in some elementary schools.
Over a period of years Waseca Lions has distributed about 2,000 books to the early learners. The national Lions Club has made available about 20 million books as part of the Lions Dictionary Project.
Read More Here:
http://www.southernminn.com/waseca_county_news/announcements/article_34d8dae2-09be-514e-a14c-607c84d33cde.html