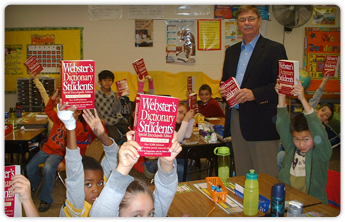 Rotary District 5110 "Look it up . . ." Dictionary Project 2014-2015:
Made up of 72 Clubs and around 3,800 members, Rotary District 5110 encompasses the central and southern regions of Oregon from the Pacific coast to the high desert and a northern most region of California.

One of Rotary's overarching goals is to advance education by promoting literacy. To meet this goal, local clubs within District 5110 participate in The Dictionary Project. Some clubs have been distributing dictionaries for over ten years now! A District-wide project has been in existence for the past several years and is coordinated by Dictionary Project Committee Chair, William C. Mickelberry.

The District provides the dictionaries and a donor recognition book plate bearing the Four-Way Test and a name line for the student recipient. Members from each local Rotary Club make the distributions to students in their respective communities.

Mr. Mickelberry recently reported that sixty four clubs in District 5110 participated in the 2014-2015 project, donating 13,232 dictionaries to third graders in 219 public and private schools, as well as to home schooled students. Additionally, clubs provided English-Spanish dictionaries to dual language programs in various schools.

The Rotary Club of Greater Albany, Mr. Mickelberry's home club, has participated in The Dictionary Project since 2005. His son Patrick is a member of the same club and has been the club's dictionary chair in the past. "All of our Rotary Clubs have been encouraged to undertake additional literacy programs within their communities," stated Mr. Mickelberry. Even his oldest son David (a non-Rotarian) was encouraged a few years ago to consider distributing dictionaries in his home town. David and his family took up the offer and have been presenting dictionaries to the Madison County third graders in Madison, VA for several years now.

Living the motto "Service Above Self," Mr. Mickelberry has dedicated countless hours to help facilitate each club's project in District 5110 and we greatly appreciate his time and efforts over the years.