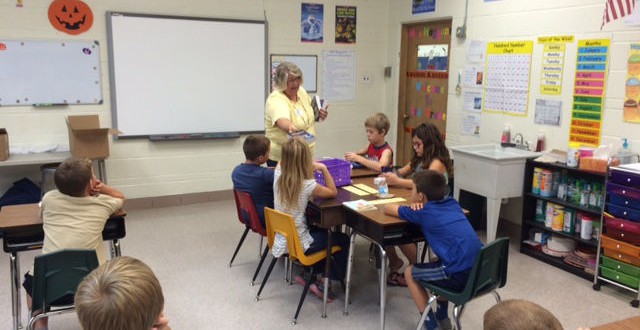 Rotary Donates Dictionaries to Students
Article written by Kelly Nicholson,
Paris Beacon – News
With auto correct and spell check, dictionaries are not always the first tool that adults gravitate towards to check their spelling. But students are still learning how to use dictionaries, starting in third grade, and one local organization has been making sure that these students get their own dictionary to keep. Started four years ago by Penny Peterson, the Paris Rotary Club has participated in the Dictionary Project with the goal "to assist all students in becoming good writers, active readers, creative thinkers and resourceful learners by providing them with their own personal dictionaries." "I had received a general Rotary email about the program, and I thought it was a good project," Peterson said, explaining how the Dictionary Project came to Paris. "I brought it to the board, and they approved to spend the money for it." Because students start to learn how to use a dictionary in third grade, those students are the recipients of their own dictionary through the Dictionary Project. "The kids love it because it is something they get to keep and take home. They don't have to keep it at school," Peterson said. "They get to keep it forever and forever. Their smiles are unbelievable." This year, third grade students at Crestwood, Wenz, St. Mary's, Chrisman, Kansas and TLC in Kansas received dictionaries from the Rotary Club. Each year, the club purchases 240 dictionaries to hand out to third grade students, and each year there are some extra because the books are ordered by the case. Peterson said that the extras are donated to a facility like one of the school libraries so that the dictionaries will be used by students. "We give the teacher one and an extra one in case there's a new student," Peterson added. This year, the extra dictionaries were given to Melinda Wooten's class at Mayo Middle School. Peterson and Wooten are good friends, and Wooten had mentioned that her students were using dictionaries a lot during class. "I thought it was an excellent idea because many of them never had a dictionary, and they really use them," Peterson said. "There is a big need everywhere (for dictionaries)." With 960 dictionaries distributed to Edgar County students over the last four years, Peterson and the kids have enjoyed the Dictionary Project. "I love doing this," Peterson said. "It's not that expensive; it's a nice program. The kids appreciate it." Since the project has been part of the community for a few years, students with older siblings look forward to getting their own dictionaries. "They expect now," Peterson said of the student with a laugh. To raise the money to keep this program going, the Paris Rotary Club hosts two fish fries each year. The money raised at these events go toward the Dictionary Project, as well as the scholarship program. The next Rotary Club fish fry is coming up on April 10.
Read Here