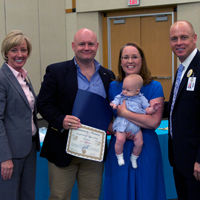 Article written by Todd Martin April 14, 2015
The Killeen Independent School District honored its busiest, most dedicated volunteers and celebrated almost 88,000 total service hours reported from last July through March. Superintendent John Craft thanked the service-minded honorees for their time and effort, but mostly, he said, for their heart. One campus came away with most of the top awards, fueled largely by three PTO volunteers, showing the impact a few motivated leaders can have on a school.
The district's Stellar Award, a "Grammy Award" to an individual with a large number of volunteer hours for multiple years went to Bonita Henderson, who amassed 1,954 hours at Cavazos Elementary School. In addition, the senior volunteer of the year, Rebecca Solis (641 hours) and the civilian volunteer of the year, Rebecca Escobar (1,262 hours), both accumulated their volunteer hours at Cavazos Elementary School. Not surprisingly, the top elementary school volunteer program award went to Cavazos Elementary School with 9,191 hours. Brenda Smith, KISD parenting and intervention specialist presented Craft with a check symbolizing the monetary value of KISD's 15,055 volunteers' 87,739 logged hours. The check, made out for $877,390 was based on $10-an-hour. The top middle school volunteer program is Union Grove Middle School with 3,090 hours. The top high school volunteer program is Shoemaker High School with 4,220 hours. The top Fort Hood adopt-a-school unit is the Carl R. Darnall Army Medical Center, which serves Saegert Elementary School and accumulated 9,008 hours.The individual volunteer of the year connected to the military is Lt. Chris Conte, who reported 100 hours at Live Oak Ridge Middle School.
Killeen ISD also recognized five community partners for providing volunteer services to various campuses. The district is preparing nominations to submit those for a state "Standing Up Award." Those top volunteer partners are the Killeen Chamber of Commerce, Harker Heights Chamber of Commerce, Killeen Area Alliance of Black School Educators, the First [A]ddition Dictionary Project and Blue Bell Creameries. A dictionary definition of volunteer is to "freely offer to do a task," Craft said. "I think it means more than that."
The superintendent said volunteers instill hope for a better society, noting that their efforts expand exponentially to offer a brighter future. Cavazos principal Joe Gullekson agreed that volunteers are highly valued on a campus, going beyond performing tasks to positively inspire others."They are invaluable," he said, explaining that volunteers assist throughout the campus, allowing educators to focus more directly on teaching.
The school's PTO recently completed a two-year $17,000 fundraiser to purchase a playscape designed for children with special needs.The principal praised Sandra Novoa, the school's parent liaison, as a major behind-the-scenes organizer of volunteers. She attends every school event and logs volunteer hours. She also operates the Cheetah Cub Club for pre-school children. The PTO at Cavazos conducts a regular parents night out with parents paying $5 or $4 and a donated canned good one Friday a month.Henderson stitches together purses and wallets from recycled juice pouches that have helped accelerate fundraising on campus. She also hems gowns for elementary graduation and is PTO treasurer.
Read Here