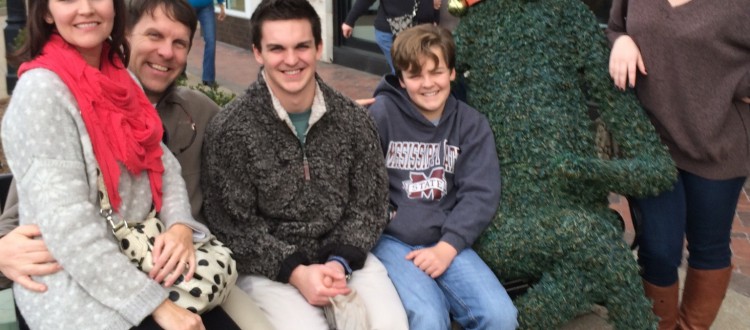 Sponsor Spotlight: Parke Pepper, Rotary Club of Senatobia, MS
A common theme here at The Dictionary Project is the power education can have on a person's life. Basic education, like reading and writing, gives a person independence and the ability to express their thoughts and emotions. But not every student is a quick learner; some need extra one-on-one time, while others face more challenging learning disabilities. Recognizing the potential in these individuals, Parke Pepper joined the Baddour Center, an organization dedicated to providing a residential community for adults with mild and moderate intellectual disabilities. Residents receive basic adult education, vocational training and enrichment services in an appropriately paced environment. This learning and support structure gives residents the ability to "accomplish goals, enjoy lifelong friendships, and realize their greatest potential in every area of life." The Dictionary Project admires Parke for encouraging education, at any level and at any age! Get to know a little bit about Parke:
1. Where are you from? Where do you live now and how did you get here?
I now live in Senatobia, Mississippi, a small city of 8,500 persons located in the northwestern part of the state (just south of Memphis, Tennessee). I split time growing up between two other smaller towns – Weston, Missouri (just north of Kansas City) and Magee, Mississippi (located in the south-central part of the state). My work brought me to Senatobia, where I am the Executive Director of The Baddour Center, a residential community for adults with intellectual disabilities.
Visit Website
2. What aspects of your hometown (or any domicile) have shaped you into the person you are today or left a lasting impression?
This is a huge and wide open question. Among many thoughts, here's one – I think persons growing up in small cities and towns do (and should) often develop a greater urgency to become involved in their communities. I'm not sure that's true, but I think with fewer persons one realizes there's less likelihood that something will happen if/when you're waiting on another to do it. I think there's greater pressure there too because you're similarly more visible in smaller places.
3. What were you like as a student? Does this have any bearing on how you view education or why you started the project?
I liked school. I have always like to read. I like to learn new things. Through this project, I often introduce myself to the students as a "word nerd," noting I especially like working crossword puzzles and other word games. I also like to write and still prefer hand-written notes to emails or texts (time and situation permitting). Sure, all of this has bearing on how I view education and why I personally believe and participate in the project. I didn't start the project. I happened to be club president during the year our Rotary District strongly encouraged participation. Rather than assign to a committee, I coordinated it myself and have volunteered to coordinate since that time.
4. How did you hear about The Dictionary Project?
[The Rotary Club of Senatobia] started the project, again, because we were initially "strongly encouraged" by the Rotary District to participate. Our District Governor challenged every club in the District to participate. Though we're part of District that includes North Mississippi and Memphis/West Tennessee, I believe the rest of the Mississippi Rotary Districts were already participating
.
5. What motivates you to keep the project alive?
Great question… We love the project because the kids love the project! In an age when almost every single kids recognizes "Google" as both noun and verb, they still seemingly eat up receiving and digging into a book that contains cool and useful information. We remind them as well that regardless of technology each student must be capable of reading and writing to fully reach their potential. We also teach them the value of research and some deductive reasoning through the exercises. We also – and this is very important – make it fun. Seeing the students have fun while learning is what makes the experience so great for participating Rotarians
.
6. What obstacles have you faced when implementing your project and how did you overcome them?
Nothing too significant. I believe there was some initial skepticism about "what if by allowing Rotary to distribute dictionaries we are opening our doors to others whose materials we might not want to share?" So, we now have to apply for and receive advance approval from several school boards before going, but it has worked smoothly thus far. Because several schools have so many 3rd graders, we've learned to respectfully ask the school to gather the class in an assembly rather doing with individuals classes. This allows all students to hear the exact same message and provides the most efficient way for Rotarians to volunteer their time and participate without sacrificing too much of their time.
7. Where would you like to see your project next year, over 5 years, etc.? Do you have any long-term goals for the project?
We certainly hope to continue the project. Having participated for several years, we now meet students who say "I remember when my [sister or brother] got one of these two years ago…" We are grateful for the Rotary District Simplified Grants which have helped to underwrite the project (i.e., around 40-45% annually).
8. From your life experience, what advice would you give a grade school student?
Listen, learn, play. Obey your teachers. Be kind to your classmates. Have fun.
9. Favorite book:
The Bible.
10. Favorite Quote:
"
Your gifts are not about…leadership is not about…your purpose is not about…YOU. A life of significance is about SERVING those who need your gifts, your leadership, and your purpose
." –Unknown Author