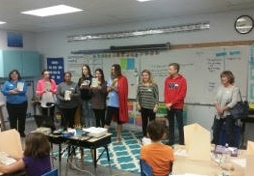 Gulf Breeze Key Club Dictionary Project
During the months of October and November 2015, the Gulf Breeze High School Key Club from Gulf Breeze, Florida delivered 840 dictionaries to 11 local Elementary Schools.  At each school, Key Club members went to every 3rd grade and handed each student their very own dictionary. One of the members explained some of the features in the book and that it was a gift from the Gulf Breeze Key Club.  It was stressed to each student that this was an opportunity to expand their vocabulary and improve their ability to share ideas' through communication.

The Key Club received a grant and did fundraisers to obtain the funds needed to buy the dictionaries.

To date, the Gulf Breeze High School Key Club has donated almost 5,500 dictionaries.  Club members say they had an amazing time with this project and hope that they will be given the opportunity to do it again next year.