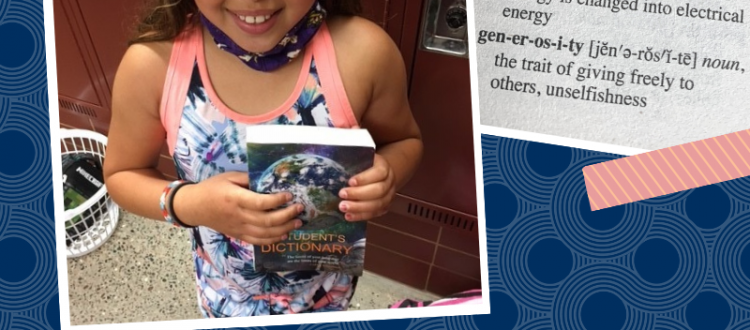 Rotary Club of Winona, Minnesota
From the October 8, 2021 Facebook post of Winona Health
It's more than just a dictionary! What a special gift to fuel literacy and a love of learning! 
When I picked up my daughter from school, she excitedly told me she got her dictionary today, but forgot it in her locker. I asked her about the dictionary and she said that all third graders got one. I thought it must be something that her school did and thought how nice!
The next day, my daughter brought home her dictionary and told me there was a letter in it for me. I read the letter and learned that the dictionary was a gift from the Rotary Club of Winona. It shared more about the history of the Rotary Club's literacy program. Then I noticed that the letter was signed by one of my Winona Health colleagues, Rod Baker! I didn't know that, in addition to his work at Winona Health, Rod happens to chair the Rotary Club's dictionary project.
The next time I saw Rod, I thanked him and told him my daughter thought this was the most special thing, and that a group came in to talk with the third graders and give them this gift. Rod was elated that she found it so special. It was definitely a feel-good moment.
But that's not all. I also learned that Winona Health, my organization, sponsors the Rotary Club's Ride the Ridges event, which, in turn, helps fund the Rotary's dictionary project!
So, to take this story of generosity full circle, I would like to say thank you to the Winona Health Foundation for being a part of this gift my daughter and her classmates received from the Rotary Club. She is currently reading the Declaration of Independence, which is printed in her very own dictionary. What a special gift to fuel literacy and a love of learning!
– Krystal Peterson, CFPM, Operations Manager, Winona Health Food & Nutrition Services
Since partnering with The Dictionary Project in 2011, the Rotary Club of Winona, Minnesota has provided over 6,100 dictionaries to third grade students in all of the schools in Winona County and at Rushford-Peterson school in Fillmore County.