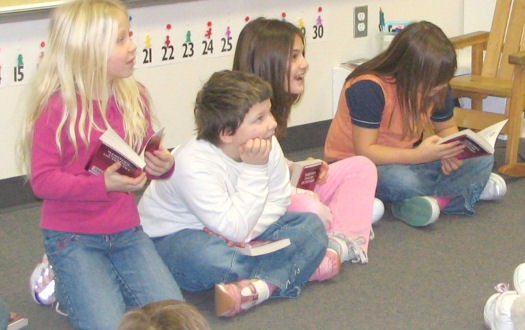 Rotary Clubs Hand Out Dictionaries
February 2, 2006

You may recall, we inquired about doing the program in our area, we were finally able to obtain a "Canadian" dictionary which our School Board approved.
We have now completed the project in our area, supplying dictionaries to all grade 3 students in 11 schools plus all home study students in our area.
The teacher's most frequent comment was "This is wonderful! Your 4-way test fits in beautifully with our focus on bullying".
Peter B. McCaffrey
Vocational Service Director
Creston Valley Rotary Club
Members of the Creston Valley Rotary Club have dis­ tributed dictionaries to all Grade 3 students in the Creston Valley and East Shore , thanks to an idea brought home by member Peter McAfferey.
"I got the idea from a booth at the Rotary International convention in Chicago last year," McAfferey said on Mon­ day. "It wasn't just a Rotary project though – other orga­nizations have taken it on, too."
When McAfferey presented the idea to his fellow Rotarians, the Creston Valley Rotary Club adopted the idea and approached Kootenay Lake School District Supt. Bill Reid.
"The sample dictionary we showed him was American and he's sharp – he pointed that out right away," M cAfferey laughed.
Reid okayed the project if Canadian Webster's student dictionaries were used, though, and the rest is now history.
On Monday morning, third grade students at Canyon-Lister Elementary School began their day by being present­ed with their own dictionaries by McAfferey and club pres­ ident Art Rees. Inside each one was a sticker with the Rotary four-way test, with each student's name printed beneath.
When the students had received their dictionaries, club Rees explained the importance of the four-way test to Rotarians, suggesting it is just as pertinent to students:
"Of the things we think, say or do: 1. Is it the truth? 2. Is it fair to all concerned? 3. Will it build goodwill and bet­ter friendships? 4. Will it be beneficial to all concerned?"
CLES principal Nancy DeVuono said she was pleased at the initiative by the Creston Valley Rotary Club.
"Everything we can do to encourage our students to read and write well is important," she said.