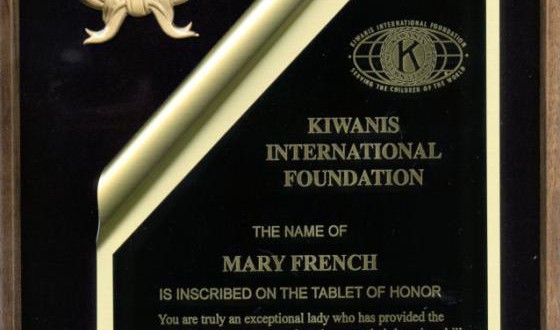 Kiwanis International Tablet of Honor
Throughout the long history of Kiwanis International, since 1915, the dedication of its members has kept the goals and objects of our organization alive. In 1965, Kiwanis International Foundation established the Tablet of Honor as a way to recognize those who have `made a difference` in this world. These men and women unselfishly give of their time and talents to make a better community and a better world.
Today we celebrate the presentation of this Tablet of Honor to Mary French. This recognition was made possible by the Michigan District. A contribution was made to Kiwanis International Foundation`s endowment. Earnings from which, support the needs of children and the Kiwanis family.
Mary, you are being recognized because of your dedicated service to the community, Kiwanis and the world. This is a better place to live because of your service and commitment. We are pleased to present to you this beautiful plaque, a pocket crest, and a pin.
The Tablet of Honor
The Tablet of Honor was established by the Kiwanis International Foundation in 1965 as a means to honor deserving individuals, groups, clubs or other that have exemplified dedicated service to Kiwanis, their club, community, or mankind. One can only receive a Tablet of Honor from another individual, club, division, district, or organization. Individuals cannot honor themselves.
The contribution of $2,000 is placed in the Kiwanis International Foundation`s endowment fund where only the earnings are used to provide grants in support of Kiwanis sponsored programs, disaster relief, and the needs of children around the world.`
Ladies and gentlemen, please join me in a show of recognition and appreciation for Mary French as she receives this Tablet of Honor, the highest honor bestowed by the Kiwanis International Foundation.