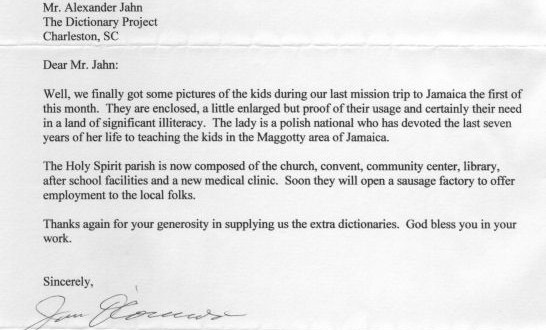 Jim and Connie O'Connor (Individual Donors)- Clarklake, MI
Dear Mr. Jahn:
Well, we finally got some pictures of the kids during out last mission trip to Jamaica the first of this month. They are enclosed, a little enlarges but proof of their usage and certainly their need in a land of significant illiteracy. The lady is a polish national who has devoted the last several years of her life to teaching the kids in the Maggotty area of Jamaica.
The Holy Spirit parish is now composed of the church, convent, community center, library, after school facilities and a new medical clinic. Soon they will open a sausage factory to offer employment to the local folks.
Thanks again for your generousity in supplying us the extra dictionaries. God bless you in your work.
Sincerely,
Jim O'Connor