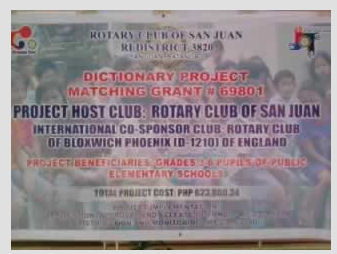 The Rotary Club of San Juan In District 3820
After the Group Study Exchange team returned from the Philippines full of enthusiasm with several ideas for potential projects which would improve the quality of life for the ordinary Filipinos, the Rotary Club of Bloxwich Phoenix chose a project to provide locally sourced English/Filipino dictionaries to school children in one of the areas that the G.S.E. team visited.
With the help of the Rotary Clubs of Burslem, Cannock and Tettenhall as well as our District we combined with the host club of San Juan to create a Rotary International Matching Grant to maximise the funds raised and therefore the number of dictionaries we were able to provide.
This was the first matching grant I had coordinated and with twenty two different figures to backwards engineer within the Rotary International requirements and limits as well as fluctuating exchange rates between the Philippines and the United States as well as the United Kingdom and the United States, in addition to which Matching Grant funding had to be curtailed due to the global financial situation, there
were several evenings when I felt my brain was melting. I must thank the members of my club who kept me sane and put up with the moaning and exasperation that occasionally emitted from my direction. However each stage of the matching grant process passed with success bringing us to the stage where the funding was complete and the project initiated, resulting in 31,200 Filipino (Tagalog)/ English dictionaries being given to school children to increase their chances of a better future.
On 11th July we received news that the dictionaries had been printed, and that distribution to the schoolchildren was about to start.
Thank you to all who have helped towards this goal and thanks must also go to Beverley our newest honorary member and member of the afore mentioned G.S.E. team who along with Rotarian Bob Cliff made me keep my eye on the ball.
Pictures and a description of the project is available at the Rotary Club of Bloxwich Phoenix web site.