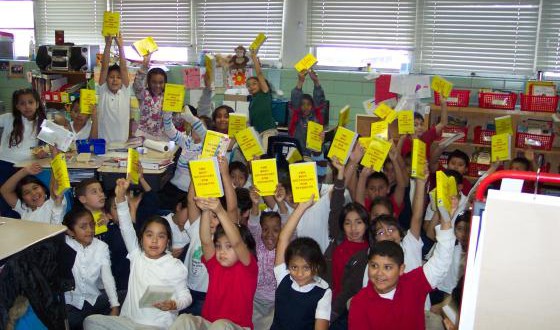 Atlanta-Northlake Elks Lodge continues dictionary project
The Atlanta-Northlake Elks Lodge # 78 visited yet another elementary school to distribute dictionaries to third-graders.
Harriet Sager, the Project Coordinator for the Elks Lodge # 78, visited Dresden Elementary School in Chamblee, GA, situated on the northeast side of metro Atlanta. There she presented dictionaries to all six classes with about 100 students in attendance. During the three sessions, Mrs. Sager distributed the books to the children, and led the students through the table of contents of `The Best Dictionary For Students,` while explaining the significance of the various aspects of a dictionary to the kids, and by that, showing them the wealth of information and how to use such reference book.
The students were excited and attentive, looking up words and wanting to read sections from their new books. By the show of hands, Harriet Sager got everyone`s commitment to use these books at school, at home, and whenever else they need to look up words that they have not seen or heard of.
Through the Atlanta-Northlake Elks Lodge, another 100 children received the gift of literacy today, designed to make their education more effective and a future generation a little more likely to become successful in their lives.
The Elks of Lodge # 78 have been a very active group for years, and this school year, 2009-10, they will be volunteering to distribute more than 3,200 books to 27 schools.
Atlanta-Northlake Elks Lodge # 78 – thank you for your generosity and continued support of The Dictionary Project!