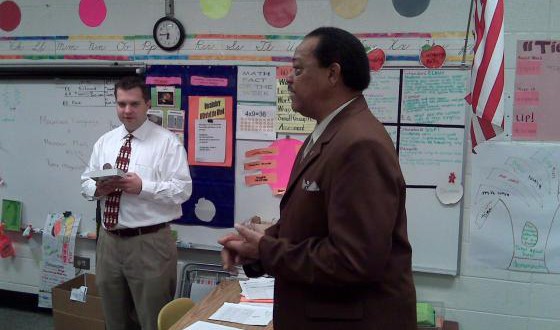 Atlanta Airport Rotary Club and Chick-Fil-A give Dictionaries to Students in Clayton County
On December 15, 2009, Mr. Dennis Martino and Dr. Hershel Robinson from the Atlanta-Airport Rotary Club, in cooperation with a local Chick-Fil-A store, represented by Mr. Chris Smith, distributed dictionaries to two schools in Clayton County – West Clayton Elementary and Northcutt Elementary.
Together they visited various classrooms to give the third graders the book `A Student`s Dictionary and Animal Gazetteer`. These dictionaries are specifically authored for young readers and contain not only the standard dictionary, but also supplemental information about the USA, countries of the world, and environmental facts about countries and animals that inhabit our planet.
The children were excited about their early `Christmas present` and listened closely to what Mr. Martino and Dr. Robinson had to say about the importance of education and how this book will be of great value to their future success. As a special contribution, Chick-Fil-A donated meal coupons that the children would receive from their teachers when they showed how well they are using the dictionaries in their daily work.
The Atlanta-Airport Rotary Club has been a tremendous sponsor in the metro Atlanta region, especially in the southern counties where a lot of students are in need of support. Every year, the Rotary Club is sponsoring thousands of books, and they are intending to actively expand the reach of The Dictionary Project throughout all of Atlanta and the state of Georgia.