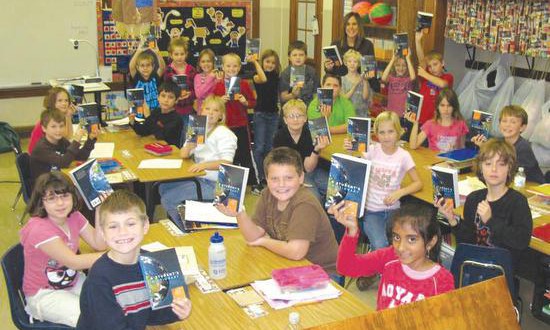 Bourbon County third graders receive dictionaries
The Fort Scott Rotary Club recently completed its seventh year participating in the third-grade dictionary project. Rotarian Ken Lyon, the club`s project officer, reports that the club personalized and presented 215 dictionaries to all third-grade students and their teachers in six schools in Bourbon County. He was assisted in the presentations by fellow Rotarians, Jim Adams, Buck Fischer, and Stephen Sweyko.
The idea of the Dictionary Project began in 1992 in Georgia with a nonprofit Association established in 1995. Since then the program has expanded nationwide with various service organizations participating in the program.
To date nearly twelve million young students nationwide have received a dictionary thanks to participating sponsors. Through the International Book Bank the program has expanded to include 34 other countries.
Lyon says that the project is one of the club`s most important since it is during the third grade where students begin learning work usage skills of reading, writing, spelling, and pronunciation. He feels that the dictionary is invaluable in developing these skills and will be used throughout their lives.
Lyon also points out that the books are more than just dictionaries, but also are part atlas and world almanac providing a wealth of information about the United States, other countries, our presidents, and many other useful facts.
Lyon says that the students are always enthusiastic when receiving their book and the teachers appreciate having the dictionaries as learning tools in their classroom. He also says that he`ll often be approached and thanked for their dictionary when a student sees him in the community.
Further information on the Dictionary Project may be found at: http://www.dictionaryproject.org/