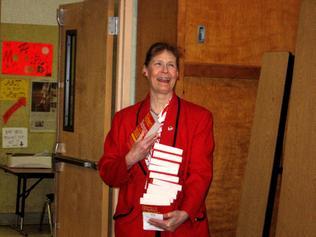 Bridgewaters Rotary spreads the word to students
The Bridgewaters Rotary Club partnered with the elementary schools in Bridgewater, East Bridgewater, and West Bridgewater to distribute dictionaries to each student in every third grade in two schools and thesauruses to fourth grades in one school on Thursday and Friday, March 26 and 27, and Thursday, April 9.
Bridgewater`s Williams Intermediate School received 274 thesauruses for its fourth grade students. The Central School in East Bridgewater received 274 dictionaries for the third graders. The Rose L. Mac Donald School in West Bridgewater received 96 dictionaries for the third graders.
For the second year, this annual project offered as a special feature an essay contest based on the Four-Way Test of Rotary International. Students were asked what the Four-Way Test meant to them in their lives. The Rotary Four-Way Test of the things we think, say, and do states, `Is it the truth? Is it fair to all concerned? Will it build good will and better friendships? Will it be beneficial to all concerned?`
Essay contest award winners in the third grade at the Rose L. Mac Donald School in West Bridgewater are: Angela Braddock, Madison Brooks, Brendan Sheedy, and Jason Victor. The principal is Linda Dubin. The essay contest award winner at Central School in East Bridgewater is Harley Woodward, where Gina Williams is the principal.
Prizes for the essay contest were sponsored by Mayflower Bank in Bridgewater and Salon Esprit in East Bridgewater.
`This is our club`s literacy service project and just one of the many community service projects we undertake each year for the benefit of residents and in particular the youth in our area,` said Fran Jeffries, chairperson of the Club`s Dictionary Project and the Club`s president.
`This is such a wonderful project. It gives us an opportunity to come into the schools and speak personally with the children and to explain who we are and what we do,` she said.
`We explained to the students that Rotary is a worldwide organization of business and professional men and women that provides humanitarian service, encourages high ethical standards in all vocations, and is dedicated to building good will and peace throughout the world,` she added. This project is part of an international effort by Rotary to increase literacy around the world. More information about The Dictionary Project can be found at the web site www.dictionaryproject.org.
Among the projects this year the Rotary Club of the Bridgewaters will sponsor is a food drive for the local food banks, local scholarships, and a Rotary Youth Leadership Award (RYLA). Community Service Awards are given to a graduating senior from each of the three public high schools and a toolship awarded to a graduating senior from Southeastern Vocational-Technical High School in recognition of their contribution to community service. The Rotary Youth Leadership Award is for regional students to attend a young leadership conference at Cape Cod Sea Camps in Brewster, on a weekend in May.
Jeffries said, `These projects are the heart and soul of what our club stands for.`
Business and professional men and women who may be interested in joining the Rotary Club of the Bridgewaters are invited to attend a weekly breakfast meeting at Good Days Restaurant on Wednesdays at 7:15 a.m., and should contact Rotarian Bruce Marquis at 508-378-7890 for additional information.