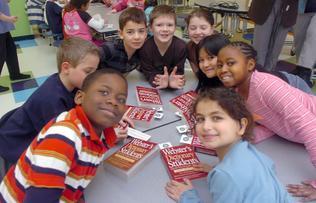 Third graders receive dictionaries from Medford Rotary
Third graders in Medford have no excuse when it comes to perfect spelling. Medford Rotary Club members recently handed out 522 dictionaries to every third-grader in the city.
`The program got started four years ago,` said Mark `Skip` Egitto, a Rotarian who headed up the Dictionary Project locally. `We`ve done every third grade, including parochial schools, in the city.`
Rotarians have handed out more than 500 dictionaries a year since the program started. Egitto said the dictionaries chosen also include other useful pieces of information like state capitals and measurement conversions.
`The kids love `em,` said Egitto. `It`s a big deal when we go. I go classroom-to-classroom with Scott Cutler. We explain to them what the Rotary is all about and we hand out the books.`
Some of the kids are always surprised when they learn they do not have to return the books at the end of the school year, Egitto said.
Kirk Johnson, principal of the Roberts School, said the books are a big help to students.
`The members come and hand it to them — they actually hand it to them personally,` said Johnson. `I think that makes a difference.`
After organizing book sales, many third-graders know books are not inexpensive, Johnson said, and for many kids, it is the first reference book they call their own.
`Sure we`ve got spell checks on the computers,` said Johnson. `But I still say kids have to go to the dictionary. You still need to know the basic skills because you never know when you`ll need to go back to the basics.`
`They`ve got technology in the library,` said Johnson. `But at some time in your workday you need to check a book reference.`