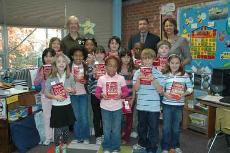 Club gives the gift of dictionaries
The Hawthorne Rotary Club recently held its 2009 Dictionary Delivery. Members of the Rotary Club delivered 250 Merriam-Webster dictionaries to third-grade classes at Washington Elementary, Jefferson Elementary, Roosevelt Elementary, St. Anthony`s Elementary and Hawthorne Christian Academy.
`This is our fifth year doing this and the kids absolutely love it. It also helps to inform the kids about the Rotary Club,` said Rotary Club President Kim Hauser.
The donation of dictionaries began with a program called the Dictionary Project. The goal of this program is to assist students in completing the school year as good writers, active readers and creative thinkers by providing students with their own personal dictionary. The dictionaries are a gift to each student to use at school and at home for years to come, according to www.dictionaryproject.org. The Dictionary Project has put a dictionary into the hands of more than 11,955,329 students and last year New Jersey sponsors donated 100,918 dictionaries.
The Hawthorne Rotary Club paid for the dictionaries and distributed them to third-grade classes in Hawthorne. The students use the dictionaries throughout the school year and at the end of the year the dictionaries are theirs to keep.
`You cannot imagine how we feel when we give these dictionaries to the children and the appreciative response we get in return,` said Hauser.