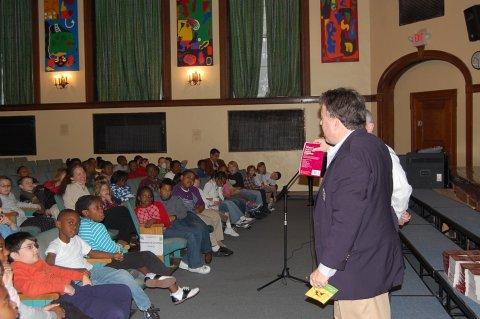 The Day: For Rotarians, an Affair of the Heart
I am a Rotarian.
And next Saturday, Feb. 27, I and my fellow Rotarians from the Maplewood Rotary Club will host its 13th annual Affair of the Heart Gala at the Maplewood Woman`s Club, 60 Woodland Road, to raise money for the Gift of Life — an organization that organizes, sponsors and hosts children from under-developed countries that are in dire need of life-saving heart operations.
So what is a Rotarian?
A Rotarian is a shop owner in downtown Maplewood, a stay-at-home mom looking to volunteer her time, a retired engineer, a local doctor, an architect, a real estate agent, a photographer, an electrician, a banker — there is no mold.
I am booked to the gills on any given week –full-time job, three-year-old son, a dog, fund raising or meetings.
But on Tuesday evenings at 6:30 p.m. everything comes to a halt. I drive over to Cryan`s Restaurant and Pub in South Orange and walk into the back room for the Maplewood Rotary Club`s weekly meeting.
It`s an opportunity to escape for an hour. We eat dinner, enjoy each other`s company and talk about how to help people in not only our community, but across the country and around the world.
In the past few months I have handed out dictionaries to every third grader in the school district as part of our Dictionary Project. I`ve tagged, trimmed and roped Christmas trees at the Maplewood Community Pool for our Christmas tree sale fund raiser.
The club will be helping at the local food bank next month, and most recently we helped fund a trip for a Dominican doctor to travel to Haiti to volunteer his services to those in desperate need of medical care.
We are currently working on organizing a shipment of crutches to Haiti because of the overwhelming number of amputees as a result of the recent earthquake.
Talk about enriching experiences!
So there it is — I am a Rotarian.
If you want to learn more about the Maplewood Rotary Club and meet an amazing group of people that truly take the Rotary`s motto `Service Above Self` to heart, come to one of our weekly meetings in the back room of Cryan`s Pub any Tuesday evening at 6:30 pm.
Please feel free to subscribe to our monthly newsletter or contact our Club President, Matthew Wagner with any questions at matthew_a_wagner@yahoo.com.
For information on this weekend`s gala or to purchase tickets, contact Richard H. Porter.