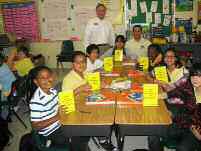 Developing solid reading skills is important to the Kiwanis Club of Hallandale Beach
`Every person who knows how to read has it in their power to magnify themselves, to multiply the ways in which they exist, to make their life full, significant and interesting.`
`Books are the wise man`s passport to success and greatness. Books are the thresholds to wonder, the gateways to enlightenment, the foundations of virtue, and the pediment of honor.` — Marcus Tullius Cicero
The Kiwanis Club of Hallandale Beach understands how developing solid reading skills among young school children prepares them for a lifetime of learning and just donated 225 dictionaries to Hallandale Elementary School.
This donation marked the fourth consecutive year that Kiwanis has undertaken this important task, and dictionaries this year were not only traditionally English but in Spanish and Creole reflecting the diverse student population at the school.
Kiwanis Club President Joe Kessel was simply delighted at the appreciation that the children expressed as they were instructed by their teacher, Ms. Del Borrello, to write their names on the inside cover and that this was a gift that they could take home.
`Many of these students have to share everything with their siblings, but this is one belonging that was exclusively theirs and could be used for years ahead,` exclaimed a very proud Kessel.
Kiwanis Florida District Governor Donna T. Parton has devoted her life to educating children and is an Administrator at Addison Mizner Elementary School. Parton is so proud that many of her Kiwanis Clubs throughout the state of Florida, where she supervises 10,000 adult Kiwanis members, and in excess of 14,000 Key Club members (high school affiliation of Kiwanis) have participated in this noble project of distributing dictionaries to young school children. She has emphasized that children who have rich early reading experiences develop language, vocabulary, and literacy skills which will enable them to succeed in school and life.
Kiwanian Alex Lewy who is very active with civic organizations in Hallandale Beach is fluent in Spanish and delighted Ms. Charles`s class when he began speaking in Spanish to the large group of bilingual students whom we met as they excitedly answered him in their native tongue.
It may amaze the residents in our community that 15 languages are spoken at Hallandale Elementary School, including English, Spanish, French, German, Italian, Creole, Russian, Serbian, Rumanian, Albanian, Mandarin, Thai, Portuguese and even Urdu.
The Kiwanis Club of Hallandale Beach takes great pride in supporting the youth in our community, but as our funds are raised through fundraisers and membership dues, we appeal to the public for financial support to continue our altruistic work and encourage you to contact me with any assistance.
Stephen P. Cummings is a Past Lt. Governor with Kiwanis International and can be reached at 954-907-2392.