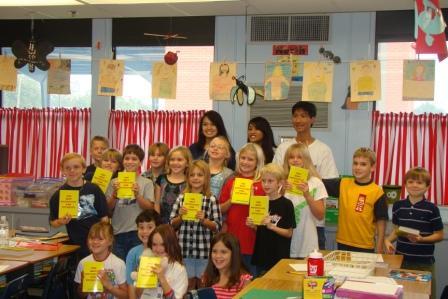 Gulf Breeze Key Club completes dictionary project
Gulf Breeze High School Key Club planned and completed an outstanding dictionary project for the elementary schools in the Gulf Breeze and Pensacola area. The Key Club first requested and received a matching grant for $390.00 from the Florida Key Club District. After receiving the grant in Sep. '09, 576 dictionaries called 'The Best Dictionary for Students' were ordered on September 25, 2009, for a cost of $720.00. On November 11, 2009, all the Key Club members placed a sticker, 'Donated by Gulf Breeze Key Club,' on the inside cover of each dictionary.
During November and December our members delivered the dictionaries to the 3rd grade students at the following schools: Sacred Heart Elementary, C.A. Weis Elementary, Hallmark Elementary, Central Elementary, Gulf Breeze Elementary, O. J. Semmes Elementary, Oriole Beach Elementary, and Oakcrest Elementary.
At each school our students explained some of the features of the dictionary. We handed each student a dictionary and took some pictures before we left. All students were overjoyed to receive their own personal dictionary. We received many letters from the students thanking our Key Club for the dictionaries. This was an outstanding project, and we hope to do it again next year.
Jack Gander
Gulf Breeze Key Club Kiwanis Advisor