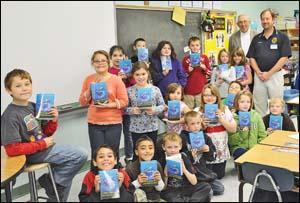 Dictionaries for all–almost
Every year the Wallkill Valley Rotary Club sponsors a program called the Dictionary Project in which members of the club hand out dictionaries to all the third-grade students in their service district. This project is sponsored annually by all Rotary Clubs in Sussex County and helps support Rotary`s focus on literacy worldwide.
This year the club gave out 396 dictionaries to seven local elementary schools.
Not only does each student receive their own dictionary, but in turn, each student is encouraged, by this gift, to become more active readers and better writers.
Alexis Horvath of Pinkel Funeral Home in Sussex coordinated the Dictionary Project for the Club.
Original Article available at :
http://www.strausnews.com/articles/2010/11/11/advertiser_news/news/22.txt