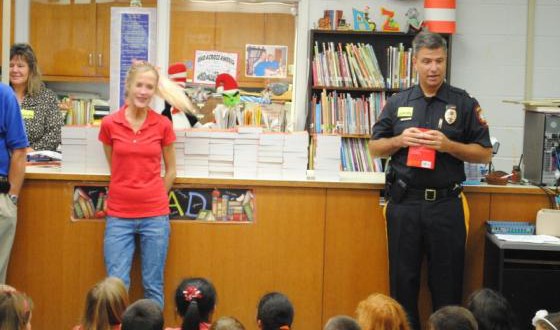 Rotary donates 900 dictionaries to local schoolchildren
More than 900 third grade students in Hillsborough Township and Manville Borough received new Webster dictionaries courtesy of the Hillsborough Rotary Club. Club President Frederick Gladstone said,`We are pleased to be able to provide these dictionaries. We hope they help those who receive them to develop into good writers, active readers, and creative thinkers.` He added that the dictionaries are gifted to each student to use at school or at home.
Over the years, the Hillsborough Rotary Club has given away well over 3,000 dictionaries to third grade students. Rotary International has distributed over 7 million dictionaries both here and abroad.
The Dictionary Project is part of the Hillsborough Rotary Club`s commitment to education. In addition to the dictionary project, the Hillsborough Rotary Club is one of the largest donors of scholarship money to graduating Hillsborough High School seniors.
Funds raised at the annual Hillsborough Rotary Fair help fund projects such as the Dictionary Project and the scholarship program.
Rotary International is the world`s first service club organization, with more than 1.2 million members in 33,000 clubs worldwide. Rotary club members are volunteers who work locally, regionally, and internationally to combat hunger, improve health and sanitation, provide education and job training, promote peace, and eradicate polio under the motto Service Above Self. More information can be found about the Rotary Club of Hillsborough at www.HillsboroughRotary.org.
Original Article available at :
http://www.hillsborough-nj.org/Cit-e-Access/news/index.cfm?NID=20361&TID=45&jump2=0