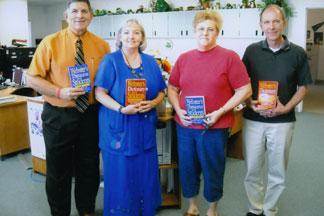 Dictionaries for Salome High
The Wickenburg Elks Youth Committee Chair Carolyn McDonald and her husband PER Walter recently took 144 dictionaries and 24 thesauruses to Salome High School as a gift to the 140 students and staff.
The donation was funded primarily through the Tri Point Retired School Employees Association of Wickenburg under the auspices of the Wickenburg Elks. McDonald is a member of both organizations. McDonald was alerted to the need for dictionaries at Salome High School last August. She was calling area elementary schools on behalf of the Dictionary Project – the nationwide effort to supply all third graders with their own dictionary. McDonald spoke with Salome Elementary School Secretary Darla Weisser. Weisser explained the need for classroom dictionaries at the high school.
Superintendent Ron Gardner introduced McDonald to the student body at an assembly. McDonald briefly discussed the philanthropic programs of the Elks and encouraged students to apply for available Elks scholarships.