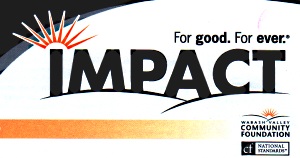 The Dictionary Project rolls on!
Wabash Valley Community Foundation Winter 2010 Newsletter
In our Summer 2010 Impact Newsletter, we highlighted the Wabash Valley Dictionary Project Endowment Fund.
The goal of that fund is to make it possible for every third grade student in Clay, Sullivan and Vigo counties to receive a dictionary to keep, every school year, forever! This can be accomplished through a gift of $1,000 to endow the annual purchase of dictionaries for one classroom. We are pleased to report progress toward that goal!
In Sullivan County, thanks to the Smithville Foundation and an anonymous donor, every third grade classroom has been endowed! This includes two classes at Carlisle two at Dugger, four at Sullivan, one each at Shelbum, Hymera and Farmersburg schools and one at Rural Community Academy.
In Vigo County, both third grade classrooms at Meadows Elementary have been endowed through the Karen J. Wright Memorial Fund, in memory of Mrs. Wright, a Meadows third grade teacher who passed away in 2008. In addition, a recent gift honoring retiring Goodwill Industries executive director Bill Tennis has endowed the three third grade classrooms at West Vigo Elementary, where Bill's father, Jerome Tennis, served as the school's the first principal. That leaves a total of 57
Vigo County public and private school third grade classrooms remaining to be endowed.
The opportunity exists in Clay County to endow dictionaries for any of the 14 third grade classes at East Side, Forest Park, Meridian, Clay City, Stanton, Jackson Township, Van Burden and Cornerstone Christian schools.
let's' important to re-emphasize that the purchase of dictionaries for an endowed classroom is perpetual, and that only $1,000 is needed to make that happen! The name of your fund will be
included in the front of every dictionary every year.
So how can you help? lf you wish to honor a favorite teacher or principal, you might solicit donations from friends who were positively impacted by that person. You might ask your civic group to take on a special project to raise the funds. Your family might decide to forego exchanging birthday and Christmas gifts for a year and earmark the money it would have spent
on those gifts to endow a class at your children's elementary school. Businesses are also encouraged to endow dictionaries for a classroom. Once you get started, you may find it isn't that
difficult to raise $1,000 for our kids' educational futures.
For more information about the Wabash Valley Dictionary Project Endowment Fund, please call the Foundation office at 812.232.2234