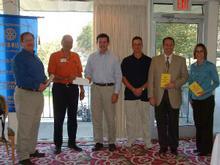 12-letter word for helping students
At a Warrick County Rotary Club meeting in early 2007, Rotarian Jack Baker proposed that the club get involved with The Dictionary Project, a concept that started in the 1990s with the sole mission of improving reading ability and comprehension of children everywhere.
Since the inception of The Dictionary Project, more than 7.8 million children nationally have received dictionaries thanks to the generosity of sponsors who value the importance of improving literacy of America`s youth.
The goal of The Dictionary Project is to encourage children to use dictionaries so that they will be able to use the English language more effectively.
By providing this tool, the project assists teachers in helping students become active readers, good writers and creative thinkers.
Thanks to generous financial support from the Boonville Wal-Mart, Peoples Trust and Savings Bank, Indiana American Water and St. Mary`s Warrick branch, the Rotary Club of Warrick County was once again able to provide every Warrick County School System third grader his or her very own personal dictionary.
This is Warrick Rotary`s second year working with The Dictionary Project.
The club hopes to continue giving this gift to local third graders for many years to come.
During their dictionary presentations, Warrick Rotarians were both impressed and humbled by the positive response and appreciation the students showed as the children received their new dictionaries.
The students were excited to see that, not only was the dictionary easy to use, it contained extra education-enriching information such as a United States map, cursive writing examples and other supplemental teaching tools that will help the students in their learning experience.
Warrick Rotary`s commitment to education does not end with The Dictionary Project.
An annual golf scramble, the club`s primary fundraiser, has enabled them to provide three college scholarship awards each year to graduating Warrick County seniors from Boonville, Castle and Tecumseh high schools. The award goes to the students that most closely adhere to the Rotary Club motto: `Service Above Self.`
The club is always on the lookout for new members who possess the desire to get involved and make a difference in the community.
Potential members are invited to attend the weekly meetings, which are at noon every Thursday at Rolling Hills Country Club.