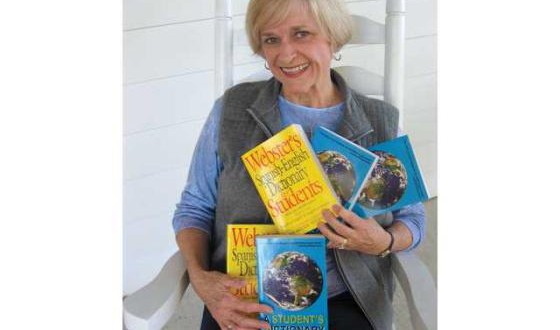 Dictionary Week arrives in Barrow County
Shelia Hawthorne, a retired educator and member of the local Omicron Chapter of Delta Kappa Gamma, is awaiting delivery of the dictionaries that will be delivered to every third grader in the Barrow County School System.
Thanks to the sponsorship of local organizations – with some support still needed – Omicron Chapter of Delta Kappa Gamma, comprised of working and retired educators, coordinates what is likely the first Georgia effort to put a new dictionary in the hand of every third grader. The project is in its eighth year.
`I have received great pleasure being referred to as `The Dictionary Lady," said Hawthorne. `The excitement and joy reflected in the children as they are presented their books far outweigh the efforts getting the books to them.`
Dictionary Week in Barrow County is being observed this week with deliveries being scheduled throughout the week.
`The third grade is usually when dictionary skills are introduced,` said Hawthorne. It`s also an education to learn about dictionaries. Consider that Noah Webster`s 250th birthday is Oct. 16.
`He helped reform elementary education in America. His Compendious Dictionary of the English Language was the first dictionary that used distinctly American spellings, pronunciations and definitions.
`What better way to honor the contributions of this man than by ensuring every third grader in America has his or her own dictionary,` says Hawthorne. `This is quite a legacy. He gets the honor but the children receive his gift.`
The Dictionary Project has brought positive attention to Barrow County, said Hawthorne.
`It has given our county an opportunity to shine, not only in the community and state, but in the nation. The project is an opportunity to unite the community in a spirit of giving. Not only do the students gain a tremendous resource tool, sponsors are empowered by being part of a caring group who affect change and improve education.
`A few years ago, I presented our model to about 3,500 educators at an educational convention in Minneapolis; subsequently, people from several states and communities have contacted me for more information,` said Hawthorne.
Her inspiration came from the printed word. She was prompted by reading a feature on Mary French in American Profile, a publication that comes with the Barrow County News. French became aware of the shortage of dictionaries in schools around Charleston, S.C., and she launched her project in 1995.
Two years later, it was a national endeavor, and more than 10 million dictionaries have been given out because of the project.
Hawthorne knew a local dictionary project would be a great fit for Omicron Chapter of Delta Kappa Gamma.
`Our organization is about improving and maintaining standards of education,` said Hawthorne. `The first year our small group of educators funded it alone with the exception of an anonymous $200 donation.`
Local sponsorships average $150 with the price of the dictionaries from The Dictionary Project through founder and director Mary French remaining the same in spite of rising costs elsewhere.
The cost is still $1.70 for English and $2 for English/
Spanish ones, respectively.
A printing glitch has Hawthorne watching for the delivery in anticipation of the tight delivery schedule.
Ninety-three percent of the dictionary money sent to the national project goes toward the dictionaries.
Hawthorne is available to speak for groups that may be interested in joining the Barrow County Dictionary Project. Sponsors may be individuals, businesses, church or civic groups, etc. Reach her by calling (770) 962-0520.
Dictionary Project stats for 2009-10 in Barrow County:
Number of English Dictionaries requested for 2009-10: 1,124
Orders must be placed for boxes of two dozen so 1,128 – or 47 boxes – will be delivered
Number of English/Hispanic Dictionaries requested for 2009-10: 113
A total of 120 or 5 boxes are being ordered as they also come in boxes of 24
–from Shelia Hawthorne