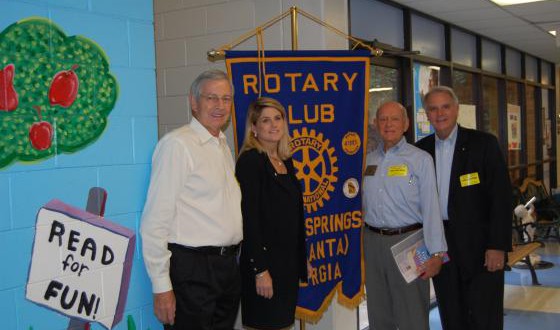 Seven Hundred Dictionaries + Seven Schools + Four Years + Dedicated Rotarians
This is the equation for another successful dictionary project for our Sandy Springs Public School third graders and our club. Not only do the children benefit in writing well, reading actively and thinking creatively, but we now are hearing of so many of their parents using and benefiting from the dictionaries. So many residents of our community are learning English as a second language. This is the gift that continues to benefit all of us. As this part of the Sandy Springs community learn and use English, they can find better jobs and provide for their families. Literacy is the most beneficial tool we can promote.
We were greeted September 3rd by our own Christine Young, Principal of Spalding Drive Charter Elementary School with danish and OJ to launch this –our fourth year of this wonderful project. Pam Jenkins was the captain with Betty Ferdinand, Jim Kelly, Carl Pirkle, Eric Stotts, Robert Wilson and Linda Randolph assisting. Christine explained the anticipation of the third graders since they know this is that special year that they will be given there own dictionary. To many, this is their first book. One young man as he saw us coming down the hall said, `Here come the heroes.` Another student had his thank you note pre-written. They were all busy writing thank you notes as we left. Look for them on display at the meetings.
Moving onto High Point ES where Walker Love led the group assisted by Eric Carlson, Keith Cooper, Betty Ferdinand, Pam Jenkins, Gene Jordan, Jim Kelly, Carl Pirkle, Linda Randolph, Carol Rubler, Daniela Schmidt, Nisbet Toole and Bobby Usher. Pam introduced Walker telling the class that he is a dentist. All the mouths opened. They asked Walker if they needed braces and showed him their loose teeth, which is common with eight year olds.
Both of these schools will have Gene Jordan and Rotarian volunteers present the `Ways of Government` next week. The vocational mentoring program will begin at that time. The dictionaries` appendix has the information for our Words of Government project.
Early in 2010 we will return for the pilot program of distributing a Thesaurus to each fifth grader at these two schools. Our multiple projects show our continuing interested in the education and development of these students.