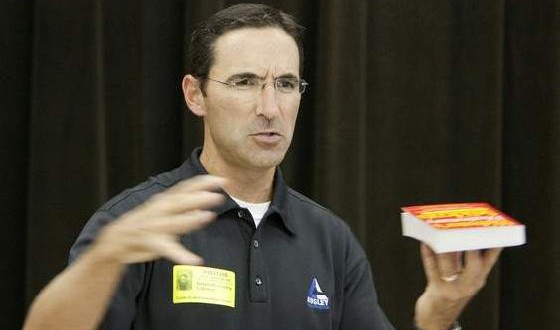 Donated dictionaries aim to boost third graders' vocabularies
South Ocala Elementary third-grader Lamaya smiled as she flipped through the red Webster's dictionary, one of about 100 paperbacks presented to her and her peers.
'I have three at home,' Lamaya said as she sat beside teacher Cristy Allison, who reminded the class the new reference books would be kept in their desks.
It was the last of 10 dictionary presentations spearheaded by ACA Construction Group, the company building a new South Ocala elementary behind the aging one.
In all, 4,000 dictionaries were given to third graders at 30 schools throughout Marion County as part of the national Dictionary Project.
Locally, the idea is to get students motivated to expand their vocabulary leading up to the FCAT, the state test that determines whether third graders will be promoted.
And school officials appreciate the gifts.
'Many of the children can't afford to get a dictionary,' said South Ocala principal Laura Burgess moments after she helped construction officials unpack the books.
It's the sixth year that dictionaries have been given to third graders. It was launched in 2004 by Marion County Judge Steve Rogers, then an attorney.
He heard about the dictionary project on the radio and asked childhood friends Ken and Steve Ausley of Ausley Construction to help purchase the books.
In 2007, ACA became the sponsor. ACA is a company that uses several construction companies to build many of the county's large school projects.
ACA, which includes the Ausleys and Cullison-Wright Construction Corp., hired Todd Duffy as chief executive officer to run the large-project company.
'We also gave them (dictionaries) out to the charter schools,' Duffy said. Indeed, this year the group held a presentation at a charter school – at McIntosh Charter School – for the first time.
Ken Ausley spoke to the children in the South Ocala cafeteria on Monday. He asked the group why dictionaries so important.
'Anyone here know what the FCAT is?' Ken Ausley asked. Every hand went up. He noted that the dictionary, and all the words inside, belong to them.
He challenged them to learn one new word every week to help them broaden their vocabularies. He said that would help them with the important state test.
Then, Ken Ausley asked students to find the word 'marsupial' in their dictionary and see who could be the first to tell him what it meant.
They soon learned that a kangaroo and a opossum are marsupials: animals that are not completely developed when born and complete their development in the mother's pouch.
For seven children, Ausley's spot assignment turned out to be a real challenge. That's because their dictionaries omitted the 'M' section.
The company will get them replacements.
School Board members Judi Zanetti and Ron Crawford attended the dictionary program. They both said they attended because of its importance to promoting literacy.