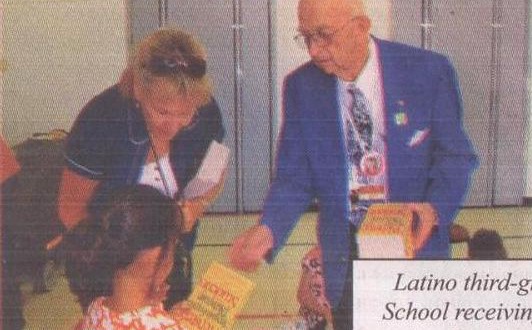 Carmichael Elks give 900 dictionaries
In early September each 3rd grade student in Carmichael elementary schools was given a free copy of `Webster`s Dictionary for Students` by Carmichael Elks Lodge # 2103. Receiving the gift of a dictionary has been called receiving `The Gift of Knowledge.`
Carmichael Elks Exalted Ruler Bob Lowe reports that Lodge members distributed over 900 dictionaries to third graders at Mary Deterding, Garfield, Mission, Thomas Kelly, Charles Peck, Albert Schweitzer, Starr King, Cameron Ranch, Carmichael, and Coyle Avenue elementary schools. The excitement and enthusiasm the students displayed upon receiving their own personal dictionaries indicates this gift of knowledge will motivate their learning of dictionary skills.
Most schools teach dictionary skills in third grade. The foundation for the concepts of correct usage of words, alphabetical order, and parts of speech develops from learning to use the dictionary. Third grade is also a critical juncture in a child`s education–this is when students make the transition from `learning to read` to `reading to learn.` All formal education after third grade is premised upon the student being able to read and to understand what he or she reads. The availability of a dictionary helps build strong readers.
Latino children whose parents are not bilingual were also given Spanish-English dictionaries.
A possible auxiliary benefit was apparent at one of the schools. After several students said their favorite word was `dictionary` and they were told the definition of dictionary is on page 111, many students had no clue as to how to find page 111. Thus, learning dictionary skills may also help students better grasp the concept of numerical order. This is just one example of the many benefits that will accrue from studying how to use their dictionaries.
Exalted Ruler Bob Lowe said the Carmichael Elks Lodge is proud to participate in the nationwide `Dictionary Project` as one of the Lodge`s many programs benefitting Carmichael youths. The Dictionary Project furnishes dictionaries nationwide to as many third graders as possible. The Project has distributed over 10 million dictionaries since 1995, and over 2.4 million in 2008 alone. Last year 6322 individuals or groups made donations to fund this outstanding program.