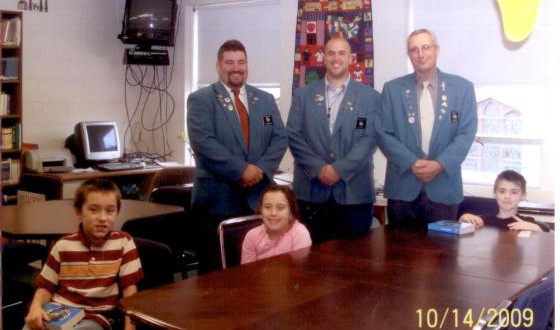 Keeseville Elks Lodge pleases students in local schools
Hello Mary French and all others,
I am writing to you in reference to our Dictionary Project at the Keeseville Elks Lodge # 2072. Just wanted to let everyone know how great it went. We visited four local elementary schools: Keeseville, Peru, AuSable Forks, and Holy Name. We were very well received. I'm not sure who was more excited, us or the third graders. Six Elks members including myself handed out 272 dictionaries to 272 glowing faces. The children were just so happy and appreciative. Also in each dictionary we put a bookmark. On the bookmark it spoke to the kids about Drug Awareness; it said, 'We'd Rather Eat Bugs Than Do Drugs.'
Peru School even had the kids write thank-you letters to us and turned it into a class project. Also, Principal Scott Storms from Peru took photos, and they made a big thank-you banner for us. I have taken the banner and hung it up at our Lodge for all to see. I also put a number of the thank-you cards that they gave us and put them out for everyone to read. Scott is a real asset to Peru Elementary School, as are all the teachers at each of the schools.
Attached are several pictures from our wonderful day of helping in some way to mold and educate the future citizens of our great country. I am a proud Elk and am very proud of my Lodge.
Thank you for helping us to help all of these young children to make a difference in their future. They are the future.
Sincerely,
Jan Downs,
Chairperson, Dictionary Project
Keeseville Elks Lodge # 2072
Here are some of the many thank-you letters received by the Elks:
'Dear Elks Club,
Thank you for giving us the cool, awesome, nice dictionaries. I love all the things in it like the sign language and the braille and the bookmark. WE LOVE IT.
From, Gabrielle
P.S. I am from Canada. I speak French.'
'Dear Elks Club,
Thank you for the fabulous, great dictionary. I will use my dictionary to learn about the planets. I can use this wonderful book to learn more facts about the continents. I will use it to look at maps. I think my dictionary is stupendous!
Sincerely,
Jordan
Mrs. Petro's class'
'Dear Elks Club,
Thank you for the dictionarys. They will come in handy with spelling and reading. Your bookmark is verry funny.
Your friend,
Kaitlynn
Mrs. Francia's class
Peace.'