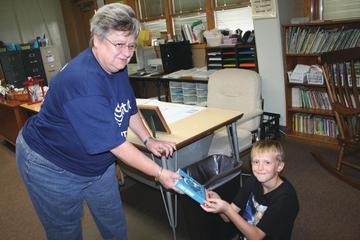 Greene County third grade students receive dictionaries from AT&T Pioneers group
Every third-grade student in the public schools of Greene County was treated to a special present Monday — their very own, brand-new dictionary, compliments of the Indiana Chapter of AT&T Pioneers in cooperation with 'The Dictionary Project.'
AT&T Pioneers is a volunteer organization composed of both retirees and active employees of AT&T who donate their time, energy and skills to give something back to the communities where they live and work.
The Dictionary Project is a nationwide nonprofit organization with a goal of providing every third grade student in the country with a dictionary.
AT&T Pioneers Linda Walton, Betsy Lettellier and Mary Ann Jacobs teamed up Monday to deliver part of Greene County's dictionaries — to third graders at Eastern-Greene, Bloomfield, Linton and White River Valley Lyons.
'We don't just drop off a box of books,' said Walton. 'We make sure we personally hand the dictionary to each child.'
Other AT&T Pioneer volunteers teamed up to deliver the dictionaries to students at Shakamak and WRV Worthington elementary schools.
The dictionaries are easy to read and also contain a wealth of facts and figures and other information including biographies of all U.S. Presidents and the texts of the Declaration of Independence and the U.S. Constitution.
Walton said the local council of AT&T Pioneers (based in Monroe County) decided to partner with The Dictionary Project to help sponsor and distribute the books as one way they could provide a positive service to this area.
As a result of The Dictionary Project, over 9,045,829 children have received a dictionary thanks to the generosity of sponsors, like the local AT&T Pioneers, who have participated.
This is not the only community service project that the 7,000 members of the AT&T Pioneers Indiana Chapter has been involved with — the list of projects they've taken on is long and varied.
In South Bend, they created Easter Baskets for special needs children. In Indianapolis, they passed out Gatorade to the thousands of runners and walkers in the 500 Festival Mini-Marathon. In the Evansville area, they partnered with Alex's Lemonade Stand to raise money for childhood cancer research.
Closer by, in the Bloomington area, they have partnered with local food banks to help feed those in need.
Together, they logged over 97,000 hours of community service last year.
Walton, who serves as the president of the Bloomington Council, said the volunteers in this area know there are many needs in this area and they welcome requests from local organizations and projects that might need a helping hand.
Look for more information about the local AT&T Pioneers on the Indiana page of www.attpioneervolunteers.org .