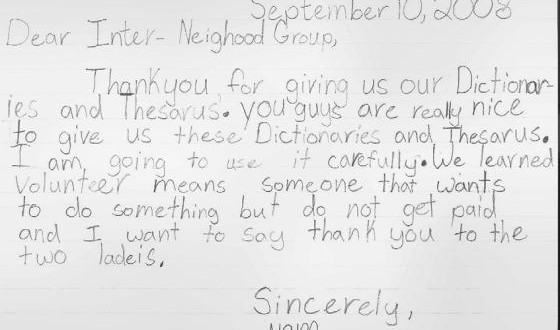 INC Dollar Dictionary Drive in 13th year
For thirteen years we have provided free dictionaries and thesauruses to every third grader in Denver Public Schools through the Dollar Dictionary Drive. We have given the books as a gift from the neighborhoods surrounding our schools.
Following is a list of thirty-three RNOs who have made generous contributions this year: Alamo Placita, Athmar Park, Baker, Bear Valley, Bellevue Hale, Bow-Mar Heights, CHUN, Cherry Creek North, Civic Association of Clayton, Crestmoor Park (2nd filing), Down Town Denver Residents Organization, East Montclair, Golden Triangle, Greater Park Hill, Harkness Heights, Harvey Park, Hutchinson Hills/Willow Point, Inspiration Point, INC, Mayfair Neighbors, Mayfair Park, North City Park, Park Forest HOA, Stapleton Master Community Assn, University Park, Virginia Village/Ellis, West University Community Association, Windsor Gardens, Wyman, Old San Rafael, South City Park, Cook Park, and Cory Merrill.
We have received generous grants from The League of Women Voters and The Denver Kiwanis Foundation.
Businesses making donations this year are: Casey`s Construction, Denver Community Service Fund, Joy Wine and Spirits, Harmes C. Fishback Foundation Trust, and Mountain Shadows Condominiums. Two hundred concerned individuals have made donations as well.