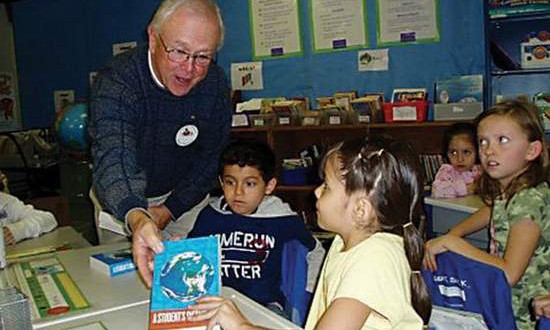 Summit County Rotary donates dictionaries to third graders
For the fourth straight year, the Rotary Club of Summit County is giving a free dictionary to every third-grade student in public elementary schools.
Teams of Rotary volunteers are visiting each school — Breckenridge, Upper Blue, Frisco, Dillon Valley, Silverthorne and Summit Cove — to hand the dictionaries personally to each student. More than 250 dictionaries are being distributed.
`We love this project,` said Steve Cornwell, the Summit Rotary Dictionary Project team leader. `We feel dictionaries can help Summit County students become better readers, be more enthusiastic about the use of words and language, and develop stronger vocabularies. When we hand out the dictionaries, the kids devour them. They write their names inside the front cover. They are so curious and enthusiastic about being able to look up words and read the definitions. While we`re with them, we challenge them to find some words in their new dictionaries and read the definitions out loud.`
This program, a part of the literacy committee of the Rotary Club, is part of a worldwide effort spearheaded by The Dictionary Project in Charleston, S.C.
The purpose of The Dictionary Project is to provide dictionaries to students to keep to use as their own personal reference books. This agency seeks to provide dictionaries to all of the children who are in school. The program is typically implemented in the third grade each year.
Since its inception, more than 7.8 million dictionaries have been distributed all over the world through The Dictionary Project. Public-service clubs like Rotary play a major role in the success of this project.
The dictionaries go far beyond just words. They contain a wealth of information about the states in our country, countries in the world, the solar system, U.S. presidents and much more. Students are amazed to find the longest word in the English language is a medical term containing 1,909 letters.
Rotarian Stan Black began the Summit County third-grade dictionary giveaway in 2003. Terry Ihlenfeld and Steve Cornwell are now leading the project, along with many other Rotarians volunteering their time.
If you would like to recommend this project to someone you know outside Summit County, learn more at www.dictionaryproject.org.