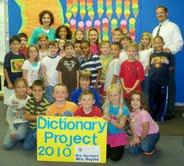 Kiwanis Club of Rancho Murieta sponsors "The Dictionary Project"
During the weeks of September 16 and 20, 2010, a delegation from the Kiwanis Club of Rancho Murieta presented all third grade students at the Cosumnes River Elementary; C.W. Dillard Elementary; and Sierra Enterprise Elementary Schools with their own personal dictionary. The schools are all located within the Elk Grove Unified School District in California. This school district is the fifth largest in the State of California. It serves 62,000 through its 64 schools.
Each copy of `A Student`s Dictionary` had a personalized label affixed to the inside cover which read, `This dictionary and all the words in it belong to (name of student). Donated by the Kiwanis Club of Rancho Murieta.`
According to Kiwanis Club President Bernie Bowes, the presentation was part of a national program called, `The Dictionary Project`, created by a private, non profit organization to help promote literacy. It`s based on the concept that a dictionary is an essential tool for a quality education and that a student cannot do his or her best work without one.
The Kiwanis Club of Rancho Murieta has been distributing dictionaries to Cosumnes River Elementary School (CRES) for five years nearly 400 dictionaries have been distributed in the past.
Principal Michael Gulden, has commented that he has seen 4th and 5th graders returning to school with their dictionaries given to them while in the 3rd grade.
Given the success of the CRES dictionary program, the Kiwanis Club has expanded the project beginning 2010 to the C.W. Dillard Elementary School in Wilton, and the Sierra Enterprise Elementary School in Elk Grove.
Joe Mazzoni, Sr., The Dictionary Project Chair, consulted with Dr. Phil Fitch and his wife Mary Helen to select the right schools.
Dillard is a local school which takes overflows from CRES.
Sierra Enterprise is a Title 1 school.
The Elementary and Secondary Education Act was enacted April 11, 1965.
Title I (`Title One`) of that act allows the US Department of Education to distribute funding to schools with a high percentage of students from low-income families.
Nearly 600 students have now received dictionaries through this club project.