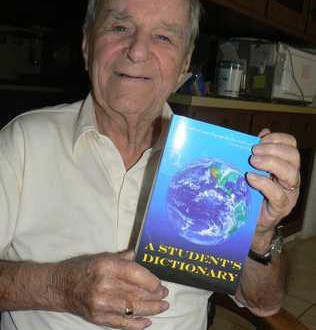 Kiwanis inspires kids to read
For more than 20 years, John Pfau has transformed his own love of books into a learning experience for local schoolchildren.
Since 1990, the 92-year-old Plantation resident has spearheaded a children's book project through the Kiwanis Club of Plantation that has distributed more than 60,000 books to Broward elementary school students.
For Pfau, a retired insurance broker and Kiwanis member since 1957, giving out new books to kids is immensely rewarding.
"It is spiritually inspiring, and it makes me feel that I am still worthwhile," he said.
The project began when Pfau met with a principal at Martin Luther King Elementary School in Lauderhill and discovered there was a need for more books.
His fellow Kiwanis members helped him deliver books to pre-K and kindergarten students at the school. The books came in bags with the slogan, "If you love me, read me a book."
Before long, word spread to other schools, and principals began calling Pfau asking if he could distribute books in their schools, too. The project has grown so much that Kiwanis members now distribute 1,000 books to pre-K and kindergarten students in five elementary schools in Plantation, Fort Lauderdale and Sunrise, along with 1,200 English and Spanish-to-English dictionaries for third graders at eight area schools.
Pfau and his committee deliver the books personally to the schools, after first attaching a label to each one that lets the new owner put his or her name on it.
The great-grandfather also volunteers his time as a classroom aide two times a week at Mirror Lakes Elementary School in Plantation.
Pfau, who was diagnosed with macular degeneration two years ago, doesn't drive anymore, but he gets to the school, which is about a mile away, on his electric scooter. There, he plays games or does puzzles with the students, who fondly call him "Grandpapa John."
Sometimes when he's shopping or dining out, students from years past spot him and come over to say hello.
"They love it and I get great satisfaction out of it," he said.
Pfau says the Kiwanis Book Distribution costs an estimated $6,000 to $7,000 a year, which is covered by a golf tournament and auto show the group hosts each year.
To encourage a lifelong love of reading and make the experience special, Pfau is insistent that instead of used material, each student gets a brand-new book.