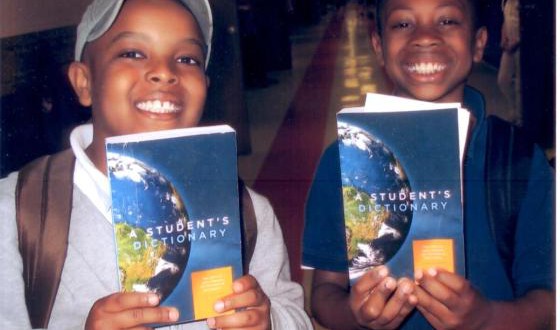 North Little Rock group helps young students
Recently, Ms. Corene Mitchell, a representative of the North Little Rock Woman's Club, contacted the Searcy Public Schools about providing our students with an opportunity to receive the benefits of one of their projects, 'The Dictionary Project.'
The Dictionary Project is a non-profit organization which provides personal dictionaries to elementary students across the nation.
According to The Dictionary Project's website, 'the goal of this program is to assist all students in completing the school year as good writers, active readers and creative thinkers by using a dictionary at school and at home for years to come.'
Sponsors across the country help to make this goal a reality. The North Little Rock Woman's Club is working to provide all Arkansas third-graders with their own hand-held resource. Because educators see third-grade as the 'dividing line between learning to read and reading to learn,' the project has chosen this grade as the appropriate age level to receive these personal dictionaries.
These books go beyond the traditional reference dictionary. In addition to the correct spellings, pronunciations, and definitions, they consist of biographies of the U.S. presidents, the Declaration of Independence, the United States Constitution, facts about the planets in the solar system, maps of the seven continents, information about the fifty states, and include a chart of weights and measurements. Obviously, these dictionaries will be a powerful tool for our students' use.
The Searcy Public Schools would like to thank the North Little Rock Woman's Club for including us in their sponsorship of 'The Dictionary Project'. We are grateful for their interest in the education of our students, and appreciate their partnering with us to improve literacy and learning. For more information about how to be a sponsor for The Dictionary Project, access www.dictionaryproject.org.
The North Little Rock Woman's Club received the following letter from the Superintendent of the Searcy Public Schools:
'Dear Ms. Mitchell and the North Little Rock Woman's Club:
On behalf of the Searcy Public School District, I would like to take this opportunity to thank you for bringing The Dictionary Project to Searcy Schools. Our third grade students will certainly benefit from these personal dictionaries that they can utilize in and out of the classroom. The elementary principals were very pleased to learn of the project, and I know our teachers will appreciate the added resource for our students. We feel fortunate to have organizations such as yours within our state that put an emphasis on education. Again, I thank you for your generosity.
Sincerely,
Tony Wood
Superintendent of Schools'