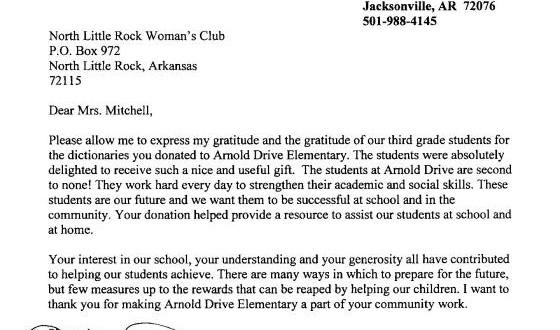 North Little Rock Women's Club and GFWC groups extend the Dictionary Project in Arkansas
The North Little Rock Women's Club has given dictionaries to children in the North Little Rock School District for four years. Recently, they have been extending their project into the Pulaski County Schools as well. Corene Mitchell, president of the club, agreed to help The Dictionary Project reach the children in schools in Arkansas which have never received dictionaries before, so The Dictionary Project provided additional dictionaries, and the North Little Rock Women's Club provided volunteers and recruited other GFWC groups to help deliver them to children. They have received photos and thank-you letters from schools all over the state thanking them for their visits and for the dictionaries. It is clear that they have made many students, teachers, and principals very happy.
Here is a sample of some of the letters and pictures from the Pulaski County Special School District:
'Dear Mrs. Mitchell,
Thank you for the real cool dictionary. I enjoyed researching a lot of animals. It was so cool. I am going to list two things I liked about the book.
-Easy to read definitions
-Tells about the presidents
Sincerely,
Anthony
Arnold Drive Elementary School'