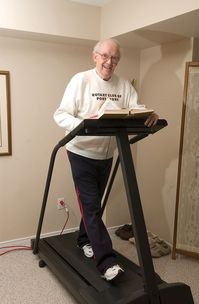 Reading a riot for Scugog service club
Rotary Club of Port Perry picks up pair of prestigious awards for literacy programs
PORT PERRY — Nearly every day Dennis Bayley wanders down to his basement and flips on his television, scanning the channels for an interesting soccer match.
In the past, Mr. Bayley would have plunked himself down on the couch in his Port Perry home. These days, however, a little more than a year after suffering a heart attack, the Scugog Rotarian uses the tilts as a distraction as he looks to cover just over four miles in under an hour on his treadmill.
But it's not just his heart he will be helping out in the coming weeks, as he continues his rehabilitation.
In an effort to inspire Scugog students to new literary heights, Mr. Bayley has promised to stroll the equivalent of 1,000 miles by the end of next June.
Along the way, he's hoping to collect pledges from family, friends and the community which he will use to help finance the purchase of a Webster's dictionary for each Grade 4 student in Scugog. The educational books will be hand-delivered by Rotary club members to students in early December.
"For every $2 I collect, a dictionary will go into a child's hand," said Mr. Bayley recently, estimating there are about 250 youths in Grade 4 in schools across the township.
"I have to (walk) for my health because of my heart attack, so I figured why not make it a fundraiser," explained Mr. Bayley.
The Scugog service club will cover the cost of the dictionaries up front, but Mr. Bayley plans on reimbursing the funds through his walkathon.
The dictionaries are made available to service clubs at a low cost through The Dictionary Project, a program in South Carolina.
The fundraiser will be a continuation of Mr. Bayley's efforts with the Rotary Club of Port Perry to improve literacy. Placed on the club's sidelines after his heart attack, Mr. Bayley was handed the group's literacy portfolio — a challenge he accepted with vigour.
With his stewardship, the Port Perry service club has carried out a number of literacy programs in Scugog and beyond the township's borders.
In Port Perry, the club covers the cost for Prince Albert Public School students to be bused to the Port Perry Villa and Port Perry Community Nursing Home where the youth spend time talking with and reading to seniors.
The Port Perry club has also pledged $100,000 over three years to the Scugog Memorial Public Library expansion and has promised $30,000 to Durham College for its computer literacy programs.
The service club also contributes cash to student bursaries, invites literary speakers to its regular meetings and is working on a project to get students in south Durham schools to read works by First Nation authors.
"In this past year, literacy has become a big part of what we do," said Mr. Bayley.
And the club's work has not gone unnoticed.
As the chairman of the Port Perry club's literacy program, Mr. Bayley recently returned home from Niagara Falls where he picked up a pair of prestigious awards on behalf of the Scugog service club.
At the district level, which includes 51 Rotary clubs across central Ontario, the Port Perry group was one of seven clubs presented with a literacy award.
As well, the club was one of four clubs to receive a zone award for its literacy work. The Rotary Club is in Zone 32, which includes clubs across Canada, Alaska, Russia and a portion of France.
"Canada is considered a very literate country because there is almost no illiteracy, but there are still people out there who can't function very well," said Mr. Bayley, rhyming off a long list of literacy statistics.
"With the dictionaries, we're hoping to help the kids who are struggling and move the others up the scale," he said.
Anyone wishing to support Mr. Bayley's fundraiser can contact him at 905-985-1342.