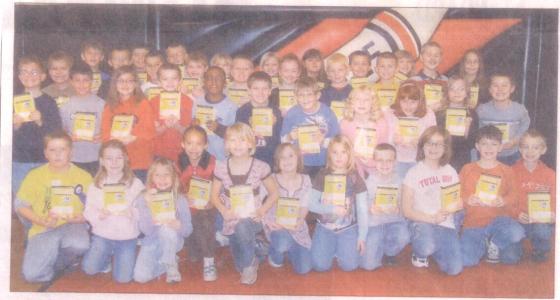 Ogle County Granges give dictionaries to third graders
Each year as one of their community service projects, members of Buffalo Grange have presented dictionaries to the third grade class at Centennial School, Polo.
This is a national community service project sponsored by The Dictionary Project and the National Grange.
According to The Dictionary Project, `A dictionary is perhaps the first and most powerful reference tool that a child should own. Its usefulness goes beyond the spellings, pronunciations, and definitions it lists. A strong vocabulary is important for gaining knowledge because this is the only way people have of sharing their ideas and thoughts.`
The Grange, a national family fraternal organization, began in 1867.
It purpose is to build fellowship and encourage service and member activities through business meetings, legislative activities, deaf awareness, youth and junior projects, men`s and women`s activities, and community service.
Buffalo Grange # 1891 was organized in May of 1939 and continues to meet regularly at the Polo Senior Center.
Also this school year, the Milledgeville Grange presented dictionaries to the Milledgeville Elementary School third graders. Grange members Mr. and Mrs. Owen Nye were present at the school to talk to the children.
Ogle Co. Pomona Grange also provided dictionaries for the third graders at Forreston Grade School and Oregon Elementary School.