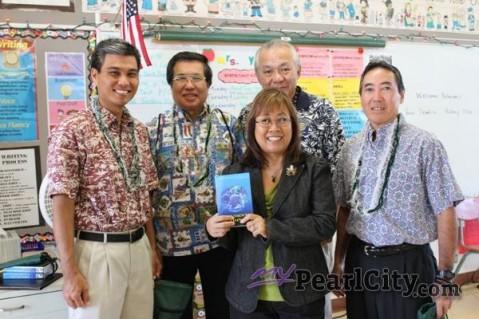 Pearlridge Rotarians donate 70 dictionaries to Webling Elementary School
Community volunteers representing the Rotary Club of Pearlridge donated 70 dictionaries to the third grade class at Webling Elementary School in Aiea on Wednesday, December 8, 2010.
Webling Elementary School is the first of five elementary schools in the Aiea and Pearl City area to receive dictionaries donated by the Rotary Club of Pearlridge.
'This is our annual Dictionary Project, where we provide dictionaries to all 3rd graders at our five elementary schools – Lehua, Momilani, Palisades, Waiau and Webling,' said Roy Matsuo, past President of the Rotary Club of Pearlridge.
Third graders at Momilani Elementary will be the second school to receive a dictionary donation with a delivery and presentation date scheduled for Tuesday, December 14th.
'We are committed to our Dictionary Project and for the 3rd graders at our dedicated schools, these dictionaries are a great educational gift for them,' said Matsuo.
Thank you to the third grade teaching staff of Lynn Yasutomi, Ms. Jo Ann Nakashima and Mr. Dayton Cabanon for inviting us into their classrooms for the dictionary presentation.
Also, thank you to the terrific students for the wonderful lei, gift bags and beautiful song that they sang to the Rotary Club members. Mahalo to Mr. Cabanon for his talent on the ukulele.