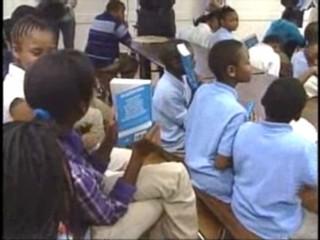 Rawlings-Blake, Baltimore Mayor, Delivers Dictionaries To Students
Dozens of Baltimore elementary school children received the gift of good spelling Tuesday.
Spelling and grammar just got a lot easier for 120 students at Westport Academy in Southwest Baltimore. They'll all be taking home dictionaries from the Rotary Club.
'I won't have to worry about using small words when I get older. I can use bigger words,' said Cache, student.
City leaders helped pass out the new gifts.
For the past five years the Baltimore Rotary Club has donated thousands of dictionaries to third graders across the city.
'Dictionaries will help the third graders just at the pivotal point when they learn to love reading,' said Mary Anne Rishebarger, Rotary Club President.
Westport Academy is the 90th Baltimore school to receive dictionaries this year. To complete their goal, they have 30 more schools to go.
The club missed Westport the past couple of years, so this year fourth- and fifth graders get them too.
'With the dictionary I can figure out what certain words mean and how to pronounce it,' said Ke'Lin, student.
Organizers hope this vital learning tool will strengthen their vocabulary to help ensure their bright future.
Many Rotary Clubs around the state have the same goal of getting dictionaries to all third graders.