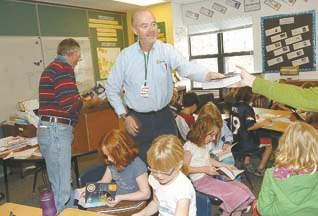 Rotary dishes out dictionaries to third graders
For the fifth year, the Rotary Club of Summit County is giving a free dictionary to every third-grade student in Summit County public schools. Teams of Rotary volunteers are visiting each school — Breckenridge, Upper Blue, Frisco, Dillon Valley, Silverthorne and Summit Cove — to hand the dictionaries personally to each student. Over 290 dictionaries are being distributed this year.
The program, a part of the Literacy Committee of the Rotary Club, is part of a worldwide effort spearheaded by The Dictionary Project in Charleston, S.C. The purpose of The Dictionary Project is to provide dictionaries to students to keep and use as their own personal reference books.
Since its inception, over 11.6 million dictionaries have been distributed all over the world through The Dictionary Project, including 2.5 million last year alone. Public service clubs like Rotary play a major role in the success of this project.
`This is a rewarding project for us.` said Steve Cornwell, the Summit Rotary Dictionary Project team leader. `We feel dictionaries can help Summit County students become better readers, be more enthusiastic about the use of words and language, and develop stronger vocabularies. When we hand out the dictionaries, the kids proudly write their names inside the front cover. They are so curious and enthusiastic about being able to look up words and read the definitions. While we`re with them we and their teachers challenge them to find some words in their new dictionaries and read the definitions out loud.`
Rotarian Stan Black began the Summit County third-grade dictionary giveaway in 2003. Mary Anne Johnston and Steve Cornwell are now leading the project along with many other Rotarians volunteering their time. To recommend this project to a third-grader outside the Summit County public school system, contact Cornwell at (303) 842-6934, or learn more at www.dictionaryproject.org.