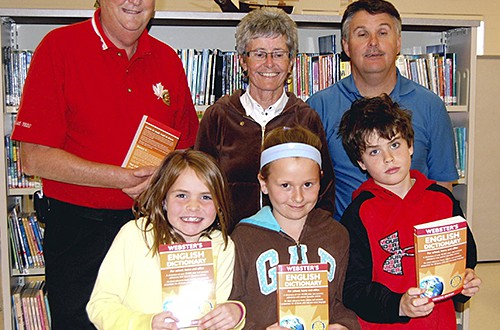 Rotary helps students develop reading skills
April 30th, 2009

Members of the Rotary Club of Charlottetown Royalty present Grade 3 students at West Royalty School with their own individual dictionaries Wednesday as part of a Rotary literacy initiative that will span schools across the Island. Proudly displaying their new dictionaries are from left, Chelsea MacLeod, MacKenzie Cooper and Christopher McQuaid. Looking on are, from left, Rotarians Duncan Conrad and Marie MacDonald and school principal Ken Gaudet. Guardian photo
Prince Edward Island Rotary clubs are launching a literacy project aimed at assisting students with the development of their reading skills.
As part of this project, approximately 1,200 Grade 3 students will be presented with a specially produced edition of Webster's Dictionary purchased by Rotarians.
The goal of the project is to assist Grade 3 students in completing their school year as good writers, active readers and creative thinkers by providing each student with their own personal dictionary to help them develop these skills.
"The dictionaries are a gift to each student to use at school and at home, hopefully for years to come," said Duncan Conrad, a past president of the Rotary Club of Charlottetown Royalty, the lead club on this Islandwide project.
Rotarians from clubs across the Island will personally visit the schools and meet with the students to talk about the importance of literacy and to hand out the dictionaries.
"Reading is one of the most important skills of all," Conrad said.
"It is the starting point of all the economic and social opportunities this world has to offer an individual. Statistics show that a very high percentage of Islanders have some difficulty with literacy skills. Through the efforts of Rotarians across the Island, a personal commitment is being made to improving literacy and the quality of life of all Islanders, beginning with our students."
Rotary International is a volunteer organization of 1.2 million business and professional men and women united worldwide to provide humanitarian service and to help build good will and peace.
Prince Edward Island has six Rotary Clubs that are active in service to their communities and around the world.
For more information on the dictionary project contact PDG Duncan Conrad, Rotary Club of Charlottetown Royalty at 368-3568 or by email at duncanconrad@eastlink.ca.