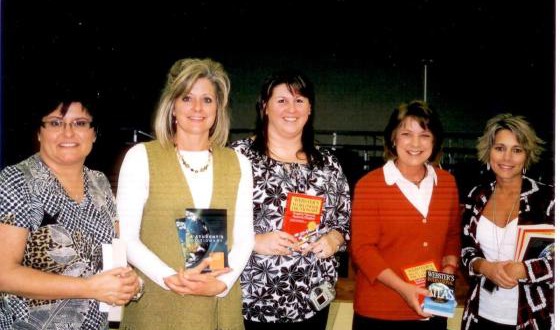 Gene Anderson, a member of the Springdale Rotary Club and chairman of the club`s dictionary program, hands out dictionaries Monday to third-grade students during the club`s seventh annual Springdale Rotary dictionary program at Bayyari Elementary School in Springdale. Anderson said the club delivered 1,554 dictionaries to third graders in the Springdale School District, Shiloh Christian School, and Salem Lutheran School.
Note from The Dictionary Project:
The Springdale Rotary Club received many thank-you letters from the students at Bayyari Elementary School. Here is one:
`Dear Rotary Club,
Thank you for the dictionary. I love my dictionary because of the pages that help with words, maps, and presidents. The words in the dictionary help me spell words. The dictionary helps me spell words like `sliding.` Maps help me find things. If my teacher gives me a list of presidents that I need to learn, I can look them up in my dictionary. All in all words, maps, and presidents make my dictionary amazing.
Sincerely,
Raul
Bayyari Elementary 3rd grade`