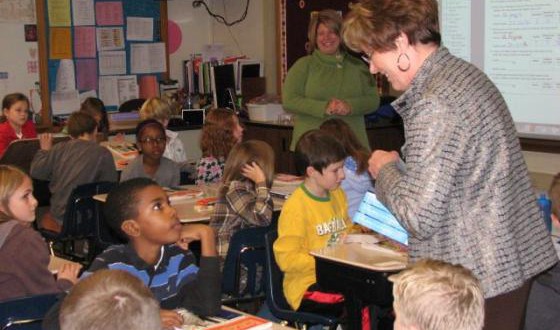 3,000 third-graders get dictionaries
Three thousand North Metro Elementary students received dictionaries this year through The Dictionary Project. The dictionaries were delivered by members of several Rotary Clubs to students at 28 schools in the Anoka-Hennepin district, as well as to several private schools.
The objective of the national project, based in Charleston, S.C., is to get a dictionary in every third-grader`s hands. In the north metro, Rotary Clubs in Anoka, Blaine/Ham Lake, Coon Rapids and Ramsey delivered the books, with the Anoka-Hennepin Foundation and Connexus Energy making major contributions.
Four hundred third-graders in the St. Francis School District also received dictionaries, their first time to receive books in the four years of the program in this area.
For more information, contact Phil Knutson (%60mailto:philk36@tcq.net%60) or Gary Campbell (%60mailto:Gary8455@msn.com%60) of the Anoka Rotary Club.

Original Article available at :
http://www.startribune.com/local/north/80218482.html?elr=KArks:DCiUHc3E7_V_nDaycUiD3aPc:_Yyc:aUUr
For more information, please contact :
http://www.startribune.com/local/north/80218482.html?elr=KArks:DCiUHc3E7_V_nDaycUiD3aPc:_Yyc:aUUr