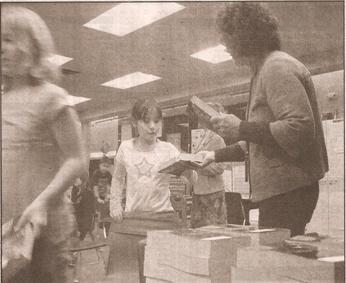 Students enjoy an old-fashioned tool
While the kids are accustomed to using Wikipedia and other online resources, the dictionaries each third grader received Thursday are 'really nice tools' Vitalie said.
This is the second year the Virginia Rotary Club has purchased and distributed dictionaries- via The Dictionary Project- to third graders in the Mountain Iron-Buhl, Virginia and Gilbert schools.
The Dictionary Project, a non-profit organization based in South Carolina, aims to put a dictionary in the hands of every third grader across the country, Rotarian Linda Mykelbust explained to the students.
She and Rotarians Chris Knight and Jim Eberius handed out about 250 dictionaries to students in the three districts Thursday. The club bought the books at about $2 a piece from the Dictionary Project, which gives 95 cents of every dollar donated toward the purchase of dictionaries.
The organization's goal is to help students become better writers, active readers and creative thinkers. Sponsors–often Rotary Clubs and other civic groups–provide the dictionaries to students in their communities.
In 2009 nearly 2.5 million dictionaries were given to children nationwide as gifts from people who live in their own town, according to The Dictionary Project, which has helped distribute a total of more than 12 million dictionaries to kids throughout the United States.
Myklebust took a few moments to talk to Merritt third graders about the Rotary Club. She asked if they knew what a service club is. It 'helps people,' one student said.
Vitali told the kids the first word they should look up in their dictionaries should be 'service,' because 'we appreciate what Rotary does for us.'
The books, called 'A Student's Dictionary,' also contains many pages of resource information, including facts about countries and the 50 states, maps of the world, United States history, including biographies of the presidents, the Declaration of Independence, and the constitution.
'If you look in the back, you'll find a surprise beyond the words in the front.' Myklebust said. 'Have a great time with them,' she said to the students.