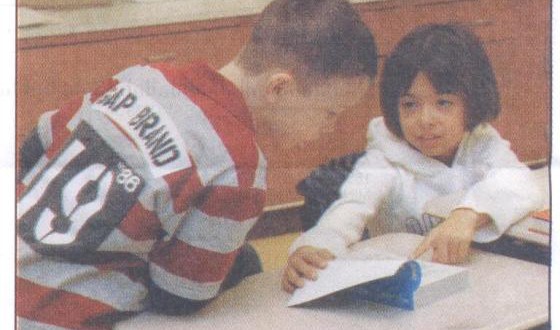 Anoka-Hennepin third graders enjoy new dictionaries
Anoka Rotarian Phil Knutson always enjoys handing out dictionaries to Anoka-Hennepin area third graders, but this year was a special joy. One of the third graders at Crooked Lake Elementary was his grandson, Gunnar.
Teacher Linda Smith invited Gunnar to introduce his grandfather to the class before the dictionaries were distributed. She said the students use the dictionaries a lot in her class. The third-grade classrooms only have a few dictionaries to share among their students.
The students were very excited to get the dictionaries and eagerly started paging through the books. The dictionaries also include 200 pages of reference materials, including maps, measures, presidents` biographies, information about the 50 states, planets, and the Constitution. One of the highlights for many of the students is the longest word in the English language: 1,909 letters.
Backpack Online heard from the parent of a Riverview Specialty School third grader, who said her daughter was enjoying having her very own dictionary:
`We drove to Duluth over the weekend and Katie read to us about the presidents and the states; she loved sharing facts and quizzing us. Thank you for thinking of the kids and for your generous donation!`
Interim Superintendant Dennis Carlson helped deliver more than 60 dictionaries to Eisenhower Elementary School third graders and noted that students were eager to learn about their new possessions.
`The students loved their new dictionaries and were amazed at the number of facts and information that it contained–from all the U. S. presidents to world maps,` said Carlson. `Each of the classrooms had a welcoming, respectful climate for me as a guest.`
Members of the Anoka, Blaine-Ham Lake, Coon Rapids and Ramsey Rotary Clubs and the Anoka-Hennepin Educational Foundation presented dictionaries to third-grade students throughout the district recently. The group raised funds for more than 3,000 dictionaries this year.
This year, the Rotary Clubs also gave dictionaries to third graders at St. Stephen`s and Epiphany Catholic Schools and Pact Charter School.
`The Rotary Clubs perform a great community service to our children with this project,` said Carlson. `We greatly appreciate all the volunteer hours that go into the project, and it is a great way to get active community members in the schools.`
Knutson said that the Rotary Clubs each donate about $500 apiece and Connexus Energy and AHEF each donated $1,500 to the dictionary fundraising. The dictionary project is part of the national Dictionary Project of Charleston, SC, a non-profit organization devoted to providing dictionaries to students in the U. S. and overseas.
Students in the Anoka-Hennepin STEP program also helped out with the dictionary project this year. A work skills class worked to put a bookplate in each dictionary and repackaged the books for delivery to each of the district`s schools.